Grades: San Antonio Spurs vs. Utah Jazz – Game #61
The San Antonio Spurs held a 14-point lead against the Utah Jazz but ultimately ended up losing their 16th consecutive game. The Spurs are 0-8 on the Rodeo Road Trip and have one more game before heading home — Tuesday night in Salt Lake City against the Jazz once again.
The Spurs held a 10-point lead at halftime after a strong first two quarters of play. Unfortunately, the good guys collapsed in the second half. The Jazz outscored the Spurs after intermission by a final count of 63-37 to win by a final score of 118-102.
San Antonio played well for a stretch before succumbing to what felt like an inevitable run by the Jazz. Utah improved to 31-31 with the win, while the Silver and Black dropped to 14-47 with the loss.
Spurs vs. Jazz – Final Grades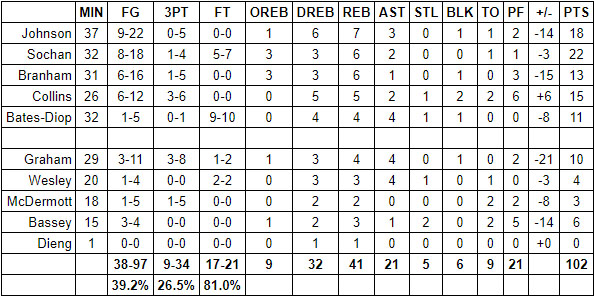 Keldon Johnson
Johnson had some tough takes and slick finishes at the rim. He's getting better and better at finishing with acrobatic moves when among the trees. Unfortunately, there was a lot lacking against the Jazz. Johnson didn't get to the free throw line and missed all five of his three-point attempts. Defensively, I thought he started off pretty well but got worse and worse as the game progressed.
Grade: C+
Jeremy Sochan
I really liked Sochan's offensive aggression. When he got the ball, he looked to create a shot for himself or someone else. He was great at using his body to create space and that physicality also led directly to his seven free throws. Truth be told, the rookie was out of control on a number of occasions — but I chalk that up to Sochan learning, growing and figuring out the limits to his game. Defensively versus the Jazz, he made a lot of good plays and remained active and attentive.
Grade: A-
Malaki Branham
Branahm had an inefficient night at the office. He was 6-for-16 from the field and didn't get to the line. His inefficiency was mostly due to getting his shot altered or blocked a handful of times. Branham has a low release so hopefully this doesn't become a chronic problem for him. The rookie didn't do much playmaking-wise or on defense.
Grade: C-
Zach Collins
I thought Collins was actually pretty good … other than the fact that he fouled out in 26 minutes. His undisciplined fouling partially overshadowed the strong work he was doing on the court. He finished decently well in the lane, hit half of his six three-point attempts, handed out some heady passes and blocked a couple shots. His rebounding could have been better, though.
Grade: B
Keita Bates-Diop
Bates-Diop had a strange game. While he was only 1-for-5 from the court, he made up for it by getting to the line ten times and hitting nine of them. I was also pretty impressed with his passing and his activity on defense. That said, a few more made baskets would have really helped things, especially when the game was slipping away in the second half.
Grade: B-
Devonte' Graham
Graham did a lot of what he's known to do. He shot eight three-pointers in 29 minutes, made some plays off the dribble with his swiftness and craftiness, and was scrappy on defense. Unfortunately, Graham struggled to have a positive impact. He had issues on defense due to being undersized and he was out of sync with his teammates on the offensive end.
Grade: C
Blake Wesley
Wesley got 20 minutes and was mostly quiet. The silver linings: Wesley flashed impressive court vision, his speed was a weapon, he competed on defense and he unabashedly attacked the rim. The not-so-silver linings: Wesley's touch at the rim was unsightly, his decision-making was iffy and he didn't always know where to be on defense.
Grade: B-
Doug McDermott
McDermott never got on track. He made only one shot in 18 minutes, turned it over twice and got routinely roasted on defense. I didn't like his shot-selection; he missed open teammates a couple times. McDermott's movement also was as frenetic as usual.
Grade: C-
Charles Bassey
I thought Bassey was decent on the offensive end. He finished around the rim, had a couple fancy passes and rolled to the rim with purpose. Defense wasn't as sublime for the 22-year-old center, to put it kindly. His rotations were late, he swiped down on the ball too often and he wasn't pulling enough rebounds out of the air. Bassey also tallied five fouls in 15 minutes, most of which were unnecessary.
Grade: C
Gorgui Dieng
With Collins and Bassey in foul trouble, Pop put Dieng in the game for a minute. He then changed his mind and went with a small ball lineup instead.
Grade: Inc.
Pop
Pop loses a few points on his report card for the team not playing as together as usual. There was a lot more one-on-one ball than usual on the offensive end. The defense also went belly up in the second half. That said, I thought the play-calling was fine and I liked that he played Sochan, Branham and Wesley a combined 83 minutes.
Grade: C