Grades: San Antonio Spurs at Utah Jazz – Game #62
After losing 16 consecutive games, the San Antonio Spurs finally got a win. The victory came on the last game of the Rodeo Road Trip in Salt Lake City against the Utah Jazz. During their losing streak, collapsing in the fourth quarter had become commonplace for the good guys. On Tuesday night, the Spurs flipped the script by dominating the fourth quarter to pull away with a 102-94 win.
The game was tight for all of the first half. In the third quarter, Utah made a run to build a double-digit advantage. Instead of getting discouraged, the Spurs battled back and only trailed by two points, 73-71, heading into the final stanza.
Rudy Gay hit a pair of free throws with ten minutes remaining to give the Jazz a five-point lead, 82-77. That's when a Blake Wesley three-pointer sparked an 11-0 run by San Antonio to grab the lead. With the game still up for grabs with three minutes remaining, Keldon Johnson took over. He had the game's final four field goals down the stretch to power the Spurs to the much-needed victory.
Overall, I thought San Antonio played well. Utah was short-handed but the Spurs deserved the win by playing hard, competing on defense and executing better in the final minutes.
Spurs at Jazz – Final Grades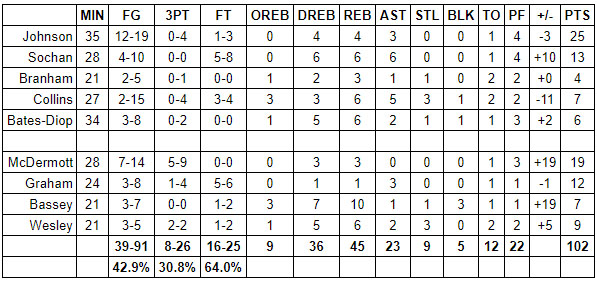 Keldon Johnson
Johnson came up big when the Spurs needed him most. In the game's final three minutes, Johnson was 4-for-4 from the floor. Everyone else on the court was a combined 0-for-7. Even before that strong finish, Johnson was playing well. He finished the game 12-for-15 from two point range, handed out three assists and only turned it over once. He was also much more active and much more focused on defense than usual. The only blemish on Johnson's stat sheet was his shooting from three-point range (0-for-4) and the line (1-for-3).
Grade: A
Jeremy Sochan
Sochan was terrible in the first half. He spent the first two quarters shooting bad shots, fumbling the ball and being completely out of control on both ends. His half ended after picking up a third unwise foul. To Sochan's credit, he was completely different in the second half. In 18 second half minutes, he had 13 points, five assists and five rebounds and the rookie was the best player on the court for long stretches. Sochan's defense greatly improved and he was a force of nature on offense. From smartly utilizing his physicality in the paint to finding shooters with pinpoint passes, he definitely finished the game on a high note.
Grade: B
Malaki Branham
Branham ultimately left this game with a hip injury. Let's hope he is able to return in a timely manner. Prior to getting hurt, the rookie had his ups and downs. He flashed slick creation skills for himself and others. He also played some good individual defense. On the other end of the spectrum, Branham struggled to handle the ball at times, struggled to find space to get off his shot and missed rotations on defense.
Grade: C
Zach Collins
What's impossible to overlook when glancing at Collins' numbers is his 2-for-15 shooting from the floor. That's obviously ghastly for a center. Collins couldn't buy a bucket from deep (0-for-4 on threes) and was immensely bothered by Utah's supersized frontline. That said, while Collins definitely had a hard time putting the ball in the basket, I thought he was stout in almost every other area. On offense, I liked that he kept firing despite the misses. His passes were excellent, he ran the court hard and he rolled to the rim with purpose. Defensively, I liked his tenacity. He sacrificed his body when defending the rim, he kept his hands active in passing lanes and made timely rotations. Collins was a bit weak on the boards but, to be fair, it wasn't for a lack of boxing out.
Grade: C+
Keita Bates-Diop
Bates-Diop didn't move a needle a ton, especially considering he was on the court for 34 minutes. I liked his hardheadedness when attacking the rim and his readiness to shoot open shots. Defensively, Bates-Diop was using his unholy wingspan to his advantage more than usual. More effort on the defensive board and more participation in the offensive sets would have been helpful.
Grade: C+
Doug McDermott
Good work by McDermott on Tuesday night. The Spurs would have been dead in the water without his three-point shooting. McDermott was 5-for-9 from three, while the rest of the team was 3-for-17. His sharp movements created shots for himself and others. I thought his decision-making was spotless and I even thought he played acceptable defense. With the team looking for someone other than Johnson to be a reliable offensive weapon, McDermott answered the call.
Grade: A-
Devonte' Graham
The good: Graham used his quickness and smarts to get to the free throw line and create shots for others. He took the shots he needed to take to create spacing and he limited his mistakes on both ends. The bad: Graham looks lost playing off the ball. He's not reliably moving to open spaces, which is bogging down the offense from time to time. Defensively, he got hunted by the Jazz and, as a result, was a persistent liability on that end.
Grade: C
Charles Bassey
Bassey did pretty well. He doesn't seem to be moving or jumping the best right now but he's finding ways to contribute. Bassey was strong on the boards, protected the rim with gusto and provided relentless energy in the paint. Offensively, he had a few more heady passes, showed off deft touch and tried to finish with strength. Bassey only had one foul in 21 minutes, which was a big improvement compared to fouling five times in 15 minutes in the previous game against the Jazz.
Grade: B
Blake Wesley
Good stuff from Wesley. The rookie's energy and enthusiasm were contagious. He was a pest on defense and authored momentous plays on that end. Offensively, he knocked down both of his three-point attempts, fearlessly attacked the basket, flew up the court at breakneck speeds and exhibited a smidgen of playmaking ability. Wesley is still obviously very raw and made more than his share of mistakes but his unquenchable competitive spirit was on display on Tuesday night.
Grade: B+
Pop
For tanking purposes, no win is a good win right now for the Spurs. But it's also true that sprinkling in wins every now and then is necessary to keep the team from falling into complete and utter despair. With that in mind, I liked how Pop coached on Tuesday night. He continued to lean on his youngsters down the stretch while obviously playing to win the game. Additionally, Pop had the Spurs playing actual defense for the first time in a long, long time. That alone was a breath of fresh air.
Grade: B+