Grades: San Antonio Spurs vs. Sacramento Kings – Game #44
The San Antonio Spurs dropped their fifth straight game on Sunday night in the AT&T Center. The Sacramento Kings, who entered the game as the fourth seed in the Western Conference, held on to the win in the fourth quarter to improve to 24-18. With the loss, the Spurs dropped to 13-31.
The Spurs played well in the first half and led the game at intermission by one point, 64-63. Unfortunately, the third quarter was disastrous for the good guys, with the Kings winning that period 39-26.
To San Antonio's credit, they were able to make a game of it in the final period. A Josh Richardson three-pointer followed by a Jeremy Sochan layup made it a four-point contest, 115-111, halfway through the fourth. However, the Kings answered with a 7-0 run and that was when the fat lady started singing. Sacramento ended up winning by a final count of 132-119.
All in all, the Spurs played hard. The Kings just had too much talent and their offense was too dynamic for San Antonio's youth to handle at this point in their development. Chalk it up as another good learning experience for the Silver and Black.
Spurs vs. Kings – Final Grades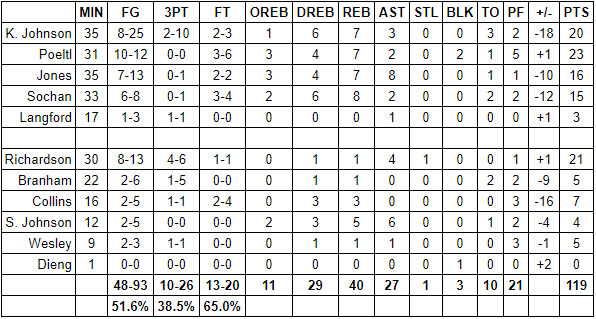 Keldon Johnson
Johnson efforted to a high degree but his efficiency was abysmal. He ended up with 20 points on 8-for-25 shooting from the field, including 2-of-10 from deep. His shot-selection wasn't terrible but, in retrospect, he should have mixed in more passes. Then again, many of the passes Johnson attempted to make were so off target that passing probably wasn't the answer either.
Grade: C
Jakob Poeltl
Poeltl came out of the gates like a man possessed. In the first half, he had 16 points on 7-for-7 shooting from the field. Heading into the fourth quarter, he was 9-for-9 from the field. Sadly, his level of play came back to earth in the final period. In the first three quarters, I loved his aggression on offense and he flashed spectacular hands and dexterity. Poeltl's defense was never better than average and he compounded that issue by getting in foul trouble.
Grade: A-
Tre Jones
It's difficult to be too upset with Jones. He finished with 16 points, eight assists and seven rebounds, while hitting better than half his shots from the field and turning it over only once. His defense wasn't always technically correct but his effort level was at max volume. Offensively, he ran the offense well and remained a threat to score at all times. Jones has stepped up in Devin Vassell's absence and he's really playing well right now.
Grade: B+
Jeremy Sochan
Sochan bounced back from a rough outing versus Golden State with a fine showing against the Kings. While he was still reluctant to shoot perimeter jumpers, he managed to score 15 points on 6-for-8 shooting from the field just by running the court and being physical. That said, his defense was mostly muted.
Grade: B+
Romeo Langford
Langford got the start but only played 17 minutes. He hit a three-pointer but didn't do much else. He only attacked sporadically on offense and his defensive intensity wasn't as high as normal.
Grade: C
Josh Richardson
Richardson was the best player on the court for the Spurs. He was scratching and clawing on defense. On offense, he accounted for four of San Antonio's ten three-pointers. He also passed the ball well, handled playmaking duties here and there, and scored with craft going to the basket.
Grade: A
Malaki Branham
Branham got some good looks but couldn't take advantage of his opportunities. He was only 1-for-5 from three-point range (he could have had a couple other attempts but he had trouble catching passes tonight, strangely enough). If the rookie would have shot straighter, the Spurs would have had a legitimate chance to shock the Kings. Defensively, Branham struggled — as he is wont to do. 
Grade: C
Zach Collins
I wasn't impressed with Collins on Sunday night. Offensively, he was holding the ball too long and wasn't reading the defense nearly as well as usual. He made matters worse by needlessly clogging the lane. Defensively, he was getting pushed around and wasn't doing good work on the boards. And, of course, there were more fouls by Collins.
Grade: D+
Stanley Johnson
Johnson looks like a natural born fit for San Antonio's offense when it comes to reading, passing and cutting. When he steps on the court, the increase in the team's basketball IQ is palpable. Defensively and on the boards, Johnson was also helpful. There were times where he tried to do too much on both ends but Johnson continues to look like a wise signing by the front office.
Grade: B+
Blake Wesley
Wesley got his first real minutes since October. I thought he looked good. Offensively, his explosive first step is still there and his shot looks smooth. Defensively, he's learning where to be — but that's always the case with young rookies new to the league. As far as the eye-test is concerned, it looks like the Spurs might have something in Wesley.
Grade: B
Gorgui Dieng
Dieng played a minute in the first half after Poeltl and Collins got in foul trouble.
Grade: Inc.
Pop
I liked that Pop gave minutes to all three of the first round picks. With Doug McDermott out with injury, Wesley was able to enter the rotation — which I thought was the right move. Overall, I thought the rotation made sense and that the Spurs played well given the circumstances.
Grade: B+