Grades: San Antonio Spurs vs. New York Knicks – Game #35
The San Antonio Spurs improved to 12-23 after defeating the New York Knicks by a final score of 122-115 in the AT&T Center. The loss dropped the Knicks to 18-18.
The Spurs trailed by three points with three minutes left in the first quarter before ending the period on a 14-2 run. From then on, San Antonio was able to keep New York at arm's length the rest of the way. The Knicks made runs here and there but the Spurs were never truly threatened.
All in all, it was a pretty impressive win — especially since the good guys were without Devin Vassell due to knee soreness. They played hard on defense and they made smart decisions on offense. On this night, that recipe was enough to defeat a Knicks squad that was without Jalen Brunson and RJ Barrett.
Spurs vs. Knicks – Final Grades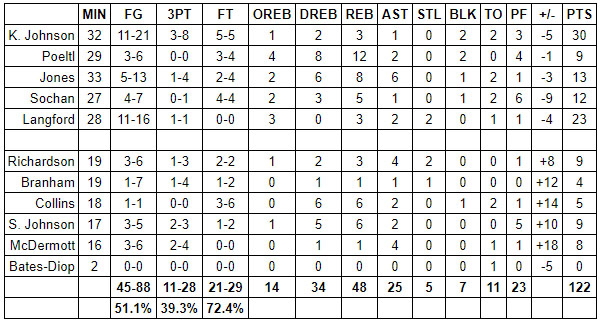 Keldon Johnson
Johnson was even better than his sparkling numbers indicate. He got in foul trouble less than two minutes into the game and didn't find his rhythm until deep into the heart of the contest. Johnson got more and more productive as the night went along and finished the fourth quarter with 11 points on 4-for-6 shooting to go along with two emphatic blocks. I really liked Johnson's shot-selection and the confidence he showed in his three-point launches. While he's been slumping for a while, this was definitely like a vintage performance that we got accustomed to witnessing all the way back in October.
Grade: A
Jakob Poeltl
It appears as if Poeltl is just now rounding back into shape after missing multiple games due to a bone bruise of his knee. He was moving really well tonight and dominated his individual matchups. His rebounding was excellent, he was a threat on offense and his mobility helped cover a lot of holes on defense.
Grade: A-
Tre Jones
The good: Jones' all-around hustle was commendable. He really pushed the pace well offensively. He was flying around the court defensively and in loose ball situations. When Jones  put his mind to it, he scored on a few impressive drives attacking the rim. I continue to like that he lets the three-ball fly. The bad: Jones' individual defense wasn't as good as usual. He hesitated and second-guessed himself too much on offense at times. 
Grade: B+
Jeremy Sochan
Sochan is finding ways to make an impact on offense. It's helpful that he's suddenly really confident shooting free throws now that he has switched to a one-handed technique. Don't look now but Sochan has hit 14 of his last 16 free throw attempts. Defensively against the Knicks, Sochan gave effort but he had a really hard time impacting the proceedings in a positive manner on that end. The rookie ended up fouling out in 27 minutes.
Grade: C
Romeo Langford
After dropping out of the regular rotation, it was a surprise that Langford got the start in place of Vassell. It turned out to be a fantastic move because Langford was outstanding. His relentlessness and his anticipation were extremely helpful defensive traits on this night. Offensively, Langford was silky smooth on his way to a career-high 23 points. He didn't do anything too flashy — he was just assertive and made the most of his opportunities. Langford is skilled, there's no question about that. The only questions with him are if he can stay healthy and if a flip will switch that will keep him playing an aggressive style of basketball. When Langford is passive, he's a dime-a-dozen G Leaguer. When he puts the pedal to the metal, his lottery talent is easy to spot.
Grade: A+ 
Josh Richardson
Richardson played a smarter brand of basketball tonight against the Knicks. He picked his spots better, didn't try to carry too much of the burden and kept the ball moving. The result was a very valuable all-around performance. Even his defense was a lot sharper than normal.
Grade: A-
Malaki Branham
Unfortunately, Branham's post-Mexico hot streak appears to be over. Tonight, he hit only one of his seven field goal attempts. That said, I actually liked his aggressiveness. He was pushing the envelope more than usual — he just wasn't connecting on the shots. For that reason, I wouldn't call tonight's contest a step backwards for Branham, despite the unsightly shooting.
Grade: C+
Zach Collins
Collins is in a good rhythm right now. He's defending without fouling, he's throwing his body around on defense, he's rebounding attentively and he's running the floor with vigor. Collins is also a high basketball IQ player on offense so he helps the team's spacing in a variety of ways. When he's playing like this, there's no question that the 25-year-old is a top tier backup center.
Grade: A-
Stanley Johnson
Johnson doesn't have any interest in giving up his spot in the rotation. With him, it's his physicality and stubbornness on defense that always stands out. Johnson got in foul trouble tonight but they were mostly fouls where he was actively in the right spot and was trying to make a play. Offensively, he was rock solid. He hit a couple three-pointers, passed the ball very well and didn't try to do anything outside of his comfort zone.
Grade: B+
Doug McDermott
McDermott's constant movement was vexing for the Knicks. If he wasn't creating an open shot for himself, he was creating an open lane for a teammate or he was making a slick pass to an open teammate. McDermott's defense was troublesome at times but his offensive gravity was so great on this night that it easily overshadowed anything that happened on the other end.
Grade: A-
Keita Bates-Diop
Bates-Diop got two minutes of action. He turned the ball over and somehow didn't come up with what looked to be an easy steal. He didn't play again after that.
Grade: Inc.
Pop
Pop starting Langford looks genius in retrospect. He obviously hasn't given up on the former lottery pick — and that dedication paid dividends. The play-calling without Vassell on the court to create spacing was difficult but Pop managed it well. The rotation also made a ton of sense, even though multiple players were battling foul issues.
Grade: A