Grades: San Antonio Spurs at New York Knicks – Game #38
After a disappointing effort in their last game, the San Antonio Spurs rebounded with a commendable performance in New York against the Knicks. Although the Spurs ended up losing the game 117-114 to drop to 12-26 on the season, they can return to San Antonio with their heads held high.
The good guys trailed for a majority of the game until making a run in the fourth quarter. With seven and a half minutes remaining, the Spurs erased a six-point deficit by going on a 10-2 run. Although the Knicks reclaimed the lead, Keldon Johnson hit two free throws to get San Antonio back within two points with 29.1 seconds to go. Unfortunately, the Spurs came up empty in their last two possessions and the Knicks were able to eke out the win.
Despite the loss, the Silver and Black competed on both ends. Considering they were playing without Devin Vassell, the Spurs certainly outperformed their expectations. They played a team-centric style of basketball and they learned lessons along the way — particularly late in the game.
Spurs at Knicks – Final Grades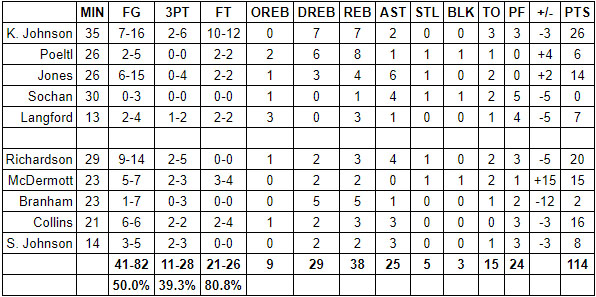 Keldon Johnson
Johnson played really well. His shooting percentages were nothing to write home about but he was able to supercharge his efficiency by getting to the free throw line a dozen times. Without Vassell, most of the attention was on Johnson — and his relentless attacking of the rim paid dividends. He also did good work on the boards and was better when it came to passing the basketball. Johnson's defense was lackluster, though, especially in the fourth quarter.
Grade: A-
Jakob Poeltl
Poeltl was largely unimpressive. Offensively, he was a beat or two out of rhythm and the Knicks showed him little to no respect on that end. Poeltl was better on defense and rebounding-wise but he was rarely able to move the needle. I won't say he lacked effort but I will say Poeltl lacked grunt against the Knicks. On this night, the Austrian was clearly the second best center on the Spurs.
Grade: C
Tre Jones
It's difficult to point things Jones did well tonight. He had a few nifty passes and he ran the court with electricity — but that's about the extent of the positives. Jones was ineffective on defense, missed all four of his three-pointers and I didn't like his shot-selection. With as well as his teammates were shooting the rock, Jones shouldn't have called his own number as much as he did. In fact, the final play of the game was a microcosm of his night, as he held onto the ball too long instead of hitting the open man right away.
Grade: D+
Jeremy Sochan
The good: Sochan authored a few really, really good passes; his crosscourt lasers are really impressive for a man his size. I liked his man-to-man defense and his pressuring of the basketball was impactful. The bad: Sochan didn't score in 30 minutes. He also didn't get a defensive rebound and only had one total rebound. Additionally, the rookie had five fouls. Overall: Sochan obviously needs to do more. He had his moments but there needs to be a lot more tangible production.
Grade: C-
Romeo Langford
Langford started the game and played 13 minutes. Given his limited playing time, I liked his offensive production. He knocked down a three-pointer, hit the offensive glass and was involved in transition. Defensively, it wasn't Langford's best performance but the effort was there.
Grade: B+
Josh Richardson
This was one of Richardson's best games of the season. On offense, he was the adult in the room for the Spurs. He took smart shots, he made wise passes and remained under control at all times. Defensively, Richardson was good team-wise and also did quality work on an individual basis. If the Spurs would have won, Richardson would have arguably been the leading reason why.
Grade: A
Doug McDermott
McDermott was once again a difference-maker of the highest order. As of late, the Spurs have almost always looked their best when McDermott is on the court. He's spacing the court with his shooting and his movement is making life easier for his compadres. Against the Knicks, the 31-year-old had some extra athleticism in his legs, which helped him on both ends.
Grade: A-
Malaki Branham
Sadly, Branham is back to struggling. For a while there, it looked like the rookie was turning a corner. He's now just 9-for-30 from the field and 2-for-13 from three-point range in his last four games. As was the case earlier in the season, his jumpers are short and he's second-guessing a lot of his decisions. Let's hope Branham rediscovers his groove sooner rather than later.
Grade: D+
Zach Collins
Collins was excellent. I liked his defense, particularly in the paint. He hit all six of his field goal attempts, which included a pair of three-point bombs. Collins was also passing it extremely well. In the second half particularly, Collins was giving the Spurs a lot more than Poeltl. When he's at his best, Collins is the rare center who can impact the game positively in nearly every category.
Grade: A
Stanley Johnson
Johnson was back in the rotation and got back to showing the coaching staff why he deserves a permanent spot. He was efficient at scoring the ball, almost always made the right pass and defended with hunger. Johnson isn't the most skilled player but he's getting the most out of his abilities right now.
Grade: B+
Pop
Down the stretch, Pop's play-calling could have been better. I didn't like either of the final two sideline out of bounds plays. Otherwise, I liked Pop's coaching. He gave extended minutes to Sochan and Branham for learning purposes. He let Collins and Richardson play more than usual due to their strong performances. Pop has to be happy with how his team played even though they ended up on the losing end.
Grade: B