Grades: San Antonio Spurs at Los Angeles Lakers – Game #18
The San Antonio Spurs (6-12) suffered another embarrassing loss in Los Angeles. A night after getting blown out by the Clippers, the Spurs got demolished by the Lakers by a final score of 123-92. 
San Antonio played a disinterested, aloof, soft brand of basketball for the first three quarters. The effort was minimal on defense and the offense was just about as ugly as any offense you'll see in the NBA in 2022. Going back to the Clippers game, that was seven straight quarters of terribleness.
Thankfully, the Spurs exhibited a little bit of life in the fourth quarter. The Silver and Black really needed to play competently for a stretch because the team had lost all their enthusiasm and there were obviously cracks showing in the cohesion that they had built up earlier in the season.
Jakob Poeltl (knee soreness) didn't play and Pop (illness) didn't coach. The absence of those two didn't help matters but it wasn't an adequate excuse for how poorly the Spurs played overall. 
Spurs at Lakers – Final Grades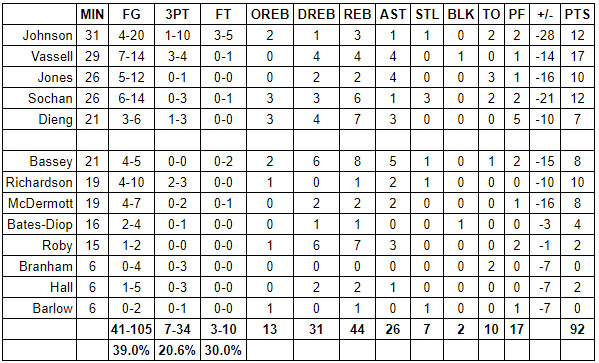 Keldon Johnson
Heading into the fourth quarter, Johnson was a miserable 1-for-16 from the field and 0-for-9 on three-point attempts. Without Pop on the sidelines, Johnson apparently thought he could chunk up as many contested three-pointers as he could get his hands on. When he wasn't doing that, he was putting his head down to try to stubbornly bully his way to the rim — like he did in previous seasons. Johnson got back on track in the fourth quarter but he was so bad up until then that there was no erasing his previous misdeeds.
Grade: D-
Devin Vassell
Eh, Vassell was fine. I didn't love his shot-selection from two-point range but he buried 3-of-4 three-pointers and was arguably the team's best passer. With more positive play around him, Vassell was playing at a high enough level for the Spurs to compete. I even thought his defense was adequate for the most part.
Grade: B
Tre Jones
I wasn't too impressed with Jones' play. His ball-handling was iffy at times and his playmaking was limited. He scored a few baskets due to his speed but he passed up a number of open shots. The one three-pointer he attempted was an airball that wasn't even in the right zip code. Jones' defense also was unimpressive and he didn't take care of the ball as well as usual. 
Grade: C-
Jeremy Sochan
The bad: Sochan's inability to hit three-pointers is really starting to get worrisome. He's not particularly close on his attempts, his motion is discombobulated and it's clear that he doesn't really want to shoot them. Early on, Sochan's defense wasn't acceptable at all. The good: Sochan's defense got better later in the game. He was 6-for-11 from two-point range; I liked his aggression inside of the arc. His liveliness on the boards was better than usual.
Grade: C+
Gorgui Dieng
Dieng filled in as the starting center and was okay-ish. He moves in slow motion these days so he couldn't do much against the Lakers on defense unless they took the ball right at him. Dieng had to reach and grab a lot, which led to his five fouls. Offensively, he tried to stretch the floor and he authored a couple good passes.
Grade: C+
Charles Bassey
Bassey's numbers look great, as he led the team in both rebounds and assists in only 21 minutes off the bench. In reality, though, he wasn't nearly as dominant as the numbers suggest. Defensively, his positioning left a lot to be desired and his defending of the rim was substandard. Offensively, he illustrated a better feel for the game than we've witnessed lately but he was lacking assertiveness. All in all, Bassey got closer to playing like he did in his first four games or so — but he's still trying to regain that magical footing.
Grade: B
Josh Richardson
Richardson was actually the first Spurs player to hit double-digits. If it wasn't for his offensive competency, San Antonio would have looked like a high school team out there for long stretches. Richardson's passing was better than it typically is and he took care of the ball. Defensively, I thought he was one of the few players who consistently competed.
Grade: B+
Doug McDermott
The bad: McDermott didn't hit a three-pointer and his defense was comically bad during a handful of possessions. The good: His movement was helpful and he was banging his body in the paint more than usual.
Grade: C+
Keita Bates-Diop
There have been a few times this year where the Spurs looked inept offensively and Bates-Diop had stepped in to steady the ship. That didn't really happen tonight. He wasn't doing much of anything defensively and he never shouldered any extra load offensively.
Grade: C
Isaiah Roby
Roby authored quality passes on the move and utilized his athleticism well on the boards. That said, he had more than his share of blown defensive assignments and he turned down too many shots on offense. Roby has to shoot wide open threes for him to be a useful spoke in San Antonio's rickety wheel.
Grade: C+
Malaki Branham
Branham didn't do anything to win himself more minutes with his play in garbage time — and that's putting it as gently as I can put it. He missed all his shots and turned down another three or four shots he should have launched without hesitation. His defense and ball-handling were also sub par.
Grade: D+
Jordan Hall
Hall wasn't shy about shooting during his cameo in garbage time. Unfortunately, he also wasn't shy about missing.
Grade: C
Dominick Barlow
Barlow didn't look as coordinated as we've seen him previously but he played at power forward without looking too out of place.
Grade C+
Brett Brown
Personally, I would have been more interested in seeing Bassey start and Branham and/or Hall play in the rotation. As it was, there was simply not enough guard play on the court for the good guys. The best thing Brown did while filling in for Pop was putting his starting lineup back out there in the fourth quarter to help restore order to what looked to be a ship that was taking on water. These rebuilding Spurs can deal with an 0-5 road trip and losing 10 of 11 games — but in-fighting and a growing toxicity would be disastrous in this long season. Hopefully the Spurs can build on their fourth quarter effort when they return to the friendly confines of the AT&T Center.
Grade: C