Grades: San Antonio Spurs vs. Los Angeles Lakers – Game #20
The San Antonio Spurs (6-14) suffered their seventh consecutive loss on Friday night at the AT&T Center. Their latest defeat, 105-94, came at the hands of the Los Angeles Lakers (6-11). The Spurs have now lost 12 of their last 13 games. 
San Antonio fell into an early hole — as has been the case in virtually every recent game for the good guys. Tonight, they trailed by 12 points after the first quarter and by 18 points at halftime. The good news in South Texas is that the Spurs actually scratched and clawed to make it a competitive affair in the second half. In recent games, the Spurs haven't been playing with an edge and lacked any semblance of fire needed to dig out of an early hole.
San Antonio outscored Los Angeles 34-20 in the third quarter to make it a four-point game heading into the final period. In the fourth quarter, the Spurs got within three points — but then their offense went ice cold as the Lakers responded with an 11-0 run to essentially end the game.
Overall, this was certainly one of San Antonio's better losses as of late. They competed on both ends, as evidenced by the fact that the Lakers scored only 105 points. If the Spurs would have shot it better, they would have had a legitimate chance to win the game. That said, the fact that the Spurs weren't blown out in disheartening fashion was in itself a step in the right direction. 
Spurs vs. Lakers – Final Grades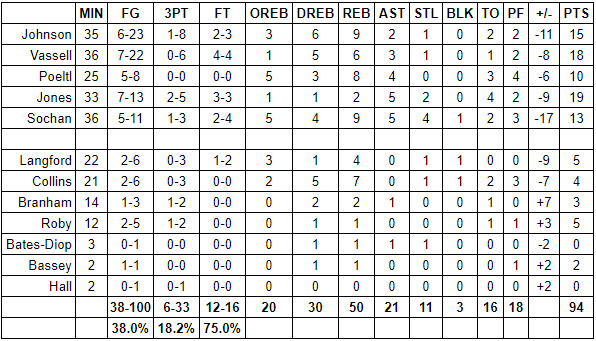 Keldon Johnson
Johnson's struggles continued. He finished the game 6-for-23 from the field and 1-for-8 from three-point range. The lone bright span was a three-minute stretch in the third quarter when Johnson went on a personal 10-2 run and hit 4-of-5 shots from the field, including a three-pointer and a free throw. Outside of that stretch, San Antonio's starting small forward had a brutal go of it. Defensively, his effort was better than usual but he was getting scored on right and left.
Grade: D+
Devin Vassell
Unfortunately, Vassell joined Johnson in struggleville. He missed all six of his three-pointers and was just 7-for-22 overall. Vassell's silver lining was the fact that almost all of his shots rattled in and out. He was a few inches here and a few inches there from having another big offensive night. Vassell's defense was strong and I thought he made better decisions than Johnson.
Grade: C
Jakob Poeltl
Poeltl did his job for the most part. He was a beast on the offensive glass, passed the ball well and scored efficiently around the rim. His court awareness was a lot better than it was in the last game. On the other side of the token, turning it over three times and committing four fouls in 25 minutes is less than stellar. I'd rate Poeltl's defense on that night as average-ish.
Grade: B-
Tre Jones
The good: With Johnson and Vassell floating around in unforgiving waves, Jones provided a much-needed scoring punch. He finished well, he shot well from deep and he rarely passed up open shots. Unfortunately, Jones' floor game was lacking. His ball-handling wasn't dependable and his playmaking was limited. Defensively, his energy was contagious. 
Grade: B
Jeremy Sochan
All in all, Sochan's play was the most exciting aspect of the game for the Spurs. Defensively, he took on the challenge of guarding LeBron James and the rookie played a part in James finishing with nine turnovers. Sochan was physical, moved his feet well and never backed down. His four steals and one block paint a picture of how active he was on D. Offensively, Sochan was definitely better than usual. He authored heady passes, took shots from the perimeter without second-guessing himself, scored with athleticism around the rim and looked fine when called upon to handle the point guard duties. This was clearly one of Sochan's best games of his young career.
Grade: A
Romeo Langford
Langford played another Langfordian game. He tried on defense. He played the sport with a high basketball IQ. But … he's just not doing enough to justify playing time. I'll give Langford credit for shooting open three-pointers — but his perimeter jumper is far from aesthetically-pleasing and he wasn't close to making any of his threes. He also isn't a playmaker and doesn't seem capable of finishing in traffic. I'm rooting for Langford to turn the corner but I just don't see a path to success for him unless the coaching staff can unlock a higher plane of existence for the 23-year-old.
Grade: C-
Zach Collins
After missing around two weeks with a non-displaced leg fracture, Collins was back in uniform — a fiesta uniform, to be exact. He was rusty from three-point territory (0-for-3) but otherwise did well. He rebounded with vigor, played zestful defense and rolled with purpose on offense. Collins was obviously out of practice but his overall effort was commendable.
Grade: B
Malaki Branham
Branham needs a heaping dose of confidence stat. He back-rimmed his first three-point attempt and then sheepishly turned down a couple of other wide open looks. He eventually took another three-pointer and made it. But after a few subsequent miscues, the rookie totally went into a shell. Branham obviously has talent and is probably one of the best scorers on the team already — but he's lacking in the self-assuredness department … bigly.   
Grade: C-
Isaiah Roby
Roby was solid. He hustled on defense, ran the court hard and nailed another three-pointer. He was close to having a certifiably positive performance — but Roby had a few rolls that didn't go his way.
Grade: B-
Keita Bates-Diop
Bates-Diop sprained his ankle shortly after checking into the game. He tried to keep playing but he was eventually forced to leave. The sprain looked significant so it's possible that he might be out a few games.
Grade: Inc. 
Charles Bassey
Bassey was demoted to third string center following the return of Collins.
Grade: Inc.
Jordan Hall
Last game, Hall dislocated his pinkie finger on the final play. It was good to see that he didn't miss any time.
Grade: Inc. 
Pop
I don't see anything to complain about rotations-wise. Sochan got all the minutes he could eat and Branham was also given time to learn. The Spurs got a lot of quality looks but they weren't shooting straight enough. The bottom line is these Spurs aren't going to win many games shooting as poorly as they did — especially when they're without Doug McDermott, Josh Richardson and Keita Bates-Diop.
Grade: B