Grades: San Antonio Spurs vs. Los Angeles Lakers – Game #21
After the smoke had cleared, the San Antonio Spurs lost a shootout against the Los Angeles Lakers on Saturday night by a final score of 143-138. The Spurs, who lost to the Lakers three times in the span of a week, fell to 6-15. The Lakers, who were playing without Anthony Davis, are now 7-11 on the season.
By the end of the game, San Antonio was extremely short-handed. Entering the night, the Spurs were without Josh Richardson and Keita Bates-Diop due to sprained ankles. During the game, the Spurs lost Jakob Poeltl and Jeremy Sochan to injuries. Additionally, Zach Collins got ejected following a flagrant foul in the third quarter. When Keldon Johnson and Isaiah Roby fouled out late, the Spurs were running out of warm bodies.
Missing all those players was felt most on the defensive end. No matter how well the Spurs got it rolling on offense, their defense could string together enough stops to truly make it a competitive game. San Antonio gave great effort and competed with energy — but they could never quite wrestle away control of the contest in the second half and ended up losing their eighth straight game.
Spurs vs. Lakers – Final Grades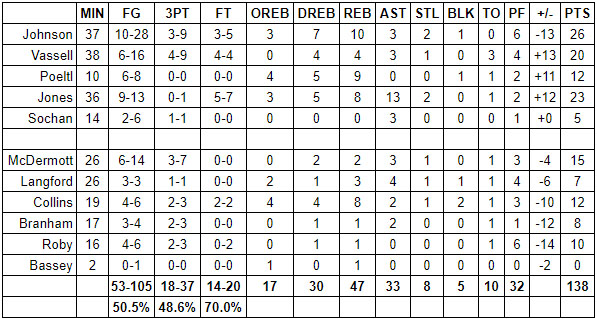 Keldon Johnson
Johnson had been struggling massively the last few games. Tonight, he took a step in the right direction. Johnson is still struggling, mind you, but there are signs he's starting to get back on track. He finished the game only 10-for-28 from the field but he was making better decisions on his drives and his enthusiasm for the game returned. Johnson also pulled down ten rebounds and was active on the defensive end. He has a lot of room to improve but let's hope his struggles are almost in his rearview mirror.
Grade: C+
Devin Vassell
The good: Vassell hit 4-of-9 three-pointers and all four of his free throws. He played with sufficient aggression offensively and I liked his liveliness on defense. The bad: Vassell hit only 2-of-7 from two-point territory and had trouble finishing in the lane. His decision-making wasn't as crisp as usual and, though the effort was there defensively, his impact was minimal.
Grade: B-
Jakob Poeltl
Man, with Davis sidelined, Poeltl was feasting in the middle. In only ten minutes, he poured in 12 points and nine rebounds and was clearly on his way to a big night. Sadly, his night ended after he pulled up gimpy after a powerful dunk in transition. Let's hope Poeltl can return to action soon because this team can't do much without their main man in the middle.
Grade: A-
Tre Jones
Jones couldn't have done much more than he did. Scoring-wise, he was finishing with craft and purpose — and also earned himself seven free throw attempts. Passing-wise, Jones was excellent. He was creating shots from his teammates in the halfcourt and in transition. His 13-to-1 assist-to-turnover ratio speaks for itself. The only negative I can point to is the fact that Jones' defense could have been a lot better.
Grade: A
Jeremy Sochan
Sochan was playing well prior to leaving the game after getting kneed in the leg. He hit a three-pointer, passed the ball well and was utilizing his athleticism wisely. Defensively, Sochan was the best thing the Spurs had going. Unfortunately, he was only able to play 14 minutes.
Grade: B
Doug McDermott
McDermott's efficiency wasn't too impressive but the Spurs were leaning on him to provide a spark. Fifteen points on 14 shots isn't great but San Antonio has to be relatively pleased with what they got out of him. Add in his three assists and I'd rank this as an above average game for McDermott.
Grade: B
Romeo Langford
Good stuff by Langford tonight. Defensively, he played his heart out. He gave everything he had to try to slow LeBron James and to play smart team defense. How impactful was Langford on D? That's difficult to say, especially since James went for 39 points. But, again, Langford at the very least gave a supreme amount of effort on that end. Offensively, he hit all three of his shots, including a three-pointer (it was only his second made three of the season). Add in quality passing and Langford probably won himself more trust from the coaching staff following his performance.
Grade: B+
Zach Collins
Like Poeltl, Collins was putting up dominant numbers in his limited minutes. In 19 minutes, he had 12 points, eight rebounds, two assists and two blocks. I loved the confidence he exhibited in his outside shot and his passing from the perimeter. Collins' overall toughness seemed to be helping matters — until an elbow to Russell Westbrook's head led to a flagrant foul and an ejection.
Grade: B+
Malaki Branham
Alright, better, young buck. Branham played with more confidence and he looked like an asset on the offensive end. He has a fast shooting stroke, makes the right pass consistently and has advanced footwork. Defensively, Branham is still a major work in progress. He doesn't even know who he is supposed to try to guard a lot of the time. His switching tends to be slow and he gets overwhelmed quite easily.
Grade: B
Isaiah Roby
Roby aided the cause by scoring ten points in 16 minutes before fouling out. The mechanics on his jumper look superb and his elite athleticism makes him a problem when slashing to the rim. Defensively, there's a whole lot he can work on. From making smarter reads to fouling less, and from doing his work early on the boards to using his athleticism to protect the rim, Roby needs to continue to learn on the job.
Grade: B-
Charles Bassey
Bassey got a cameo after the Spurs lost their top two centers. 
Grade: Inc.
Pop
There's not much I can complain about. Pop's rotations were basically forced upon him due to so many players being out. That said, I really liked his play-calling. He drew up a lot of plays for Johnson and Vassell — and even had them orchestrating a two-man game for stretches at a time. Minutes for Branham was also a plus.
Grade: B+