Grades: San Antonio Spurs vs. Dallas Mavericks – Game #69
The San Antonio Spurs lost in overtime to the Dallas Mavericks on Wednesday night to fall to 18-51 on the season. With the win, the Mavs improved to 35-35.
It was a tight, back-and-forth affair all night long. The Spurs seemingly took command with four a half minutes remaining in the game when a Tre Jones layup put the good guys up by nine points, 114-105. Unfortunately, the Mavs responded with a 9-0 run to knot the game.
With a second remaining and the Spurs down by two points, Keldon Johnson went to the line with an opportunity to tie the game. Johnson missed the first free throw and then purposefully missed the second free throw. Fortunately, the Mavs threw the ball out of bounds and the Spurs got another chance. Johnson was able to take advantage by flushing an alleyoop pass by Malaki Branham to send the game into overtime.
In the extra session, Branham hit two free throws to give the Spurs a lead. But then the Mavs ran off 13 straight points to take command. Dallas would go on to win by a final count of 137-128.
Overall, the Spurs played well enough to win against a Mavs team that was without Luka Doncic and Kyrie Irving. San Antonio, who was without starters Devin Vassell, Jeremy Sochan and Zach Collins, basically lost the game at the line. The Spurs were 15-for-26 at the charity stripe, while the Mavericks were 32-for-37.
Spurs vs. Mavericks – Final Grades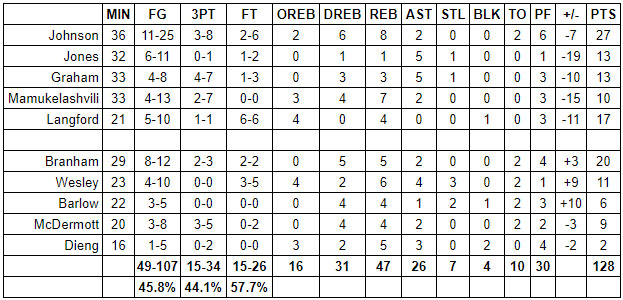 Keldon Johnson
The good: Johnson carried the Spurs offensively for much of the evening. His hard-headed drives to the basket kept the offense afloat for stretches. Johnson's stroke from three-point range looked more fluid than usual. Defensively, he was efforting and finished with a team-high eight boards. The bad: Johnson ran out of gas in overtime, as he went scoreless and missed all three of his shots. The entire game, his decision-making was sub par. He could have passed more instead of forcing shots in the lane. On defense, while he was trying hard, he was undisciplined and ended up fouling out.
Grade: B
Tre Jones
Jones was decent but didn't look 100% on his sore foot. Most notably, his defensive pressure wasn't as intense as we've become accustomed to seeing. Offensively, he was okay. He was able to craftily get into the lane to finish at the rim. His passing and playmaking were solid and he did an excellent job of taking care of the rock. Jones wasn't a threat from the perimeter, though, which allowed Dallas to ignore him for long period of time.
Grade: B-
Devonte' Graham
The good: Graham's three-point shooting helped spread the court. He was very good at pushing the pace and was finding his teammates with pinpoint passes. He kept his mistakes to a minimum on both ends of the court. The bad: Uncharacteristically, Graham was passing up shots. There were a few threes he should have fired and a couple forays to the rim where he didn't look to shoot. With Graham starting at shooting guard, his lack of size was an issue on defense on multiple occasions.
Grade: B
Sandro Mamukelashvili
Mamukelashvili really struggled in the first half. He missed all of his shots, was bumbling around on defense and was basically just getting in the way on both ends of the court. Eventually, he found a groove. By the fourth quarter, Mamukelashvili was pretty good. He rebounded well and his passing was reliable. All in all, though, the Spurs would have had a better chance to win if it didn't take him so long to find his rhythm.
Grade: C-
Romeo Langford
Langford's play was a bright spot. It's been a long, long time since we've seen him play as well as he played on Wednesday night. He ended up with 17 points in 21 minutes .He was extra bouncy and was finishing above the rim. He also hit a three and nailed all six of his free throws. On defense, Langford was hustling and technically sound.
Grade: A
Malaki Branham
Branham was another source of happiness for the Silver and Black. The rookie scored 20 points in 29 minutes off the bench. His touch from all areas of the floor was silky smooth. I loved his aggression on offense and his ability to create something out of nothing. Branham's efficiency on offense gave the Spurs a chance to win. Defensively, it wasn't as pretty. He was out of position too often and could usually be found scrambling at the last possible second.
Grade: A-
Blake Wesley
Wesley was all over the place in his 23 minutes — in both good ways and bad ways. The good: Wesley was super shifty and was getting into the lane at will. He had a few creative finishes at the rim and got to the free throw line five times. Passing-wise, Wesley is doing a really good job. He's spotting the open teammate consistently. Defensively, he was engaged and energetic. The rookie had three of the team's seven steals. Overall, his activity level was great. The bad: Wesley's touch left a lot to be desired; he had a handful of point-blank bricks. His decision-making still needs a lot of work on both ends. On offense, he wasn't always quite sure what to do. On defense, he missed more than his share of rotations.
Grade: B
Dominick Barlow
I thought this was one of Barlow's better games of the season. Offensively, he's beginning to flash legitimate ability. His jumper looks workable and his footwork in the paint is pretty advanced for a 19-year-old big. Defensively, his nimbleness and his mobility made him a plus. Barlow needs to get stronger but he moves swiftly in space, which allows him to be disruptive on that end. The rookie had miscues but he's definitely trending in the right direction.
Grade: B+
Doug McDermott
McDermott hit 3-of-5 three-pointers in his 20 minutes but missed all three of his two-pointers and both of his free throws. The Mavs were guarding him close, however he was still able to put nine points on the board thanks to his ultra quick release. Defensively, McDermott was even more of a weak spot than usual. The Mavs attacked him and he put up little resistance.
Grade: C
Gorgui Dieng
Dieng got some real minutes and wasn't bad. He hit only one of his five field goal attempts and his two three-point attempts looked creaky. But the wily veteran rebounded well, authored the right passes and defended the rim well. That said, his glacial-like movements on defense made him a big-time liability whenever he was outside of the paint.
Grade: C+
Pop
I liked Pop's coaching. His play-calling was really good, especially the play that ended up with a Johnson alleyoop that sent the game into overtime. Rotations-wise, I have nothing to complain about. We got a long look at Mamukelashvili at center. Off the bench, Branham, Wesley and Barlow got the most minutes. Pop kept his troops competitive and the Spurs took a step forward in the Victor Wembanyama sweepstakes. Call it a win-win loss. 
Grade: A-