Grades: San Antonio Spurs at Brooklyn Nets – Game #37
The San Antonio Spurs (12-25) didn't provide much resistance as the Brooklyn Nets (25-12) stormed their way to their 12th straight win. The Nets built a 20-point lead less than four minutes into the second quarter — and that was a wrap. 
The Nets ended up leading the entire game, while the Spurs struggled to put together two competent-looking possessions. When, mercifully, the final buzzer finally sounded, Brooklyn had a 139-103 victory.
Spurs at Nets – Final Grades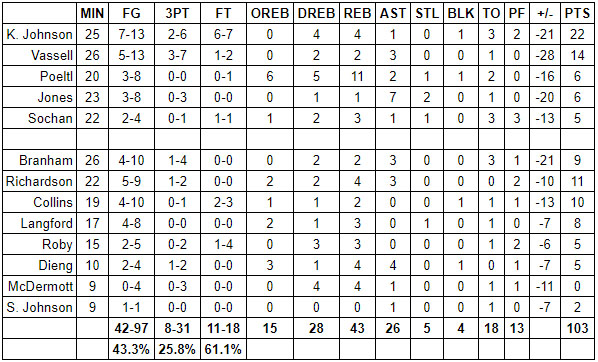 Keldon Johnson
Granted, there wasn't much competition, but Johnson was San Antonio's best offensive weapon on Monday night. He poured in 22 points in only 25 minutes by getting to the line, dropping a couple of three-point bombs and attacking the basket with unbridled aggression. Johnson's defense was sub par, I counted a grand total of one good pass and his decision-making was questionable at times. That said, compared to his teammates, he did pretty darn well.
Grade: B+
Devin Vassell
After missing two games due to knee soreness, Vassell unsurprisingly exhibited some rust against the Nets. While he hit 3-of-7 two-pointers, he was 2-of-6 from two-point range and looked a lot more herky-jerky than usual. When he didn't have an open shot, Vassell was slow to figure out what to do. I was also unimpressed with his defense.
Grade: C
Jakob Poeltl
Poeltl was actually a lot worse than his final numbers indicate. That's because he was really bad in the first half. Going into halftime, Poeltl had no points and two turnovers on 0-for-3 shooting from the field. He was moving like he was stuck in quicksand on both ends of the court. Poeltl came out with more vivacity after intermission but the damage had already been done.
Grade: D
Tre Jones
The good: Jones had a handful of quality passes. His floater in the lane is looking better. The bad: Jones' got targeted on defense and the Nets had success against him over and over again. Offensively, the Nets were ignoring the threat of his perimeter jumper — and Jones' wasn't able to take advantage. Jones is now 2-for-15 from three-point range in his last four games.
Grade: D
Jeremy Sochan
Sochan had a forgettable night at the office. He didn't do much on defense other than get in foul trouble. Offensively, he had a couple of highlight plays but he also turned it over three times. Sochan looked like … well, a rookie.
Grade: D+
Malaki Branham
When Branham first entered the game, it appeared as if he could be part of the solution. He had an assist, hit a layup and then nailed a three-pointer. Unfortunately, his confidence soon evaporated. With his confidence gone, Branham hesitated to call his own number and even started second-guessing his passes. As it turned out, the rookie ended up being part of the problem.
Grade: C-
Josh Richardson
Eh, Richardson was fine for the most part. He competed on defense, made smart decisions on offense and was attempting to lead by example. Richardson could have done more but he surely wasn't the reason why the Spurs got blown out of the water.
Grade: B-
Zach Collins
Like Poeltl, Collins was bad in the first half. In fact, Collins was even worse than the starting center. In the first two quarters, he was 1-for-7 from the floor and tallied only one rebound. When Collins wasn't getting muscled around in the paint, he could be found either missing shots or not boxing out.
Grade: D- 
Romeo Langford
Langford entered tonight's game with three dunks on the season. Tonight, all four of his made field goals were dunks. There's not much to make of that fact other than Langford at least came into the game with the right mentality. I also liked his energy level on the defensive end.
Grade: B
Isaiah Roby
Roby had a dunk, a scary fall (which he shook off) and a few rebounds while playing in extended garbage time.
Grade: Inc.
Gorgui Dieng
Playing in his first game since Dec. 14, Dieng did what he does: shot perimeter shots, passed the ball well and competed on the boards.
Grade: Inc.
Doug McDermott
McDermott only played nine minutes because Pop pulled the plug early. While he was out there, he missed all four of his shots. As one would assume when a shooting specialist misses all of his shots, it was a substandard game for McDermott.
Grade: C-
Stanley Johnson
Interestingly, Johnson wasn't in the rotation tonight. In fact, he was the last player off the bench. It'll be interesting to see if Johnson remains outside of the rotation going forward.
Grade: Inc.
Pop
Obviously, the loss itself isn't surprising. However, the Spurs shouldn't have been as completely destroyed as they were tonight. Pop doesn't escape blame for the Spurs coming out so flat that the game was over in the second quarter.
Grade: D-