Grades: San Antonio Spurs vs. Brooklyn Nets – Game #45
The San Antonio Spurs put an end to their five-game losing streak by defeating the Brooklyn Nets on Tuesday night by a final score of 106-98. The Spurs improved to 14-31 with the win, while the Nets dropped to 27-16.
The Spurs led by 12 points at the end of the first quarter. Heading into the fourth quarter, San Antonio had an eight-point lead. The Nets got within four or five points a couple times in the final stanza but the good guys always had an answer to stay comfortably ahead.
It has to be noted (and emphasized with a yellow highlighter) that the Nets were playing without Kevin Durant and Kyrie Irving due to injury. It goes without saying that Brooklyn wasn't nearly as tough without their top two players. That said, the Spurs deserve a pat on the back for playing hard, playing together and rediscovering the winning track.
Spurs vs. Nets – Final Grades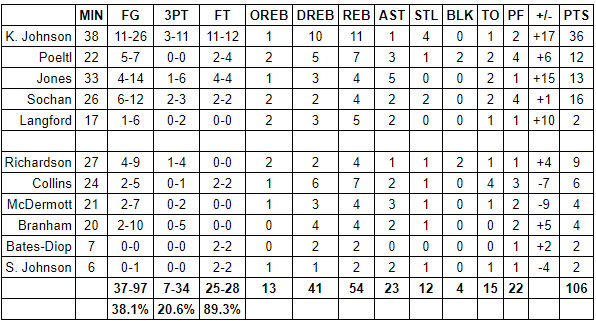 Keldon Johnson
Johnson was fantastic against the Nets on his way to a career-high 36 points. The only thing he didn't do well was shoot three-pointers (3-for-11) but even that negative comes with an asterisk because he was forced to take a few difficult threes. Johnson's strong, determined drives were his bread and butter from the opening tip. That allowed him to get to the free throw line 12 times and, truth be told, he probably deserved more trips to the line. Johnson only turning it over once was the cherry on top to his marvelous offensive night. Defensively, I thought this was one of his better showings of the season. He was attentive, played passing lanes and was a monster of the boards. Well done.
Grade: A+
Jakob Poeltl
Poeltl played well. He totaled 12 points, seven rebounds, three assists, two blocks and a steal in only 22 minutes. Poeltl set the tone early, which turned out to be one of the keys to the win. In his first eight-minute stint on the court, Poeltl had eight points and was defending the hoop with gusto. He struggled with foul trouble at various points in the game but kept playing hard and was involved on both ends of the court.
Grade: B+
Tre Jones
On offense, Jones had difficulties. His outside jumper wasn't falling and he missed a couple runners he usually makes. Additionally, his assist-to-turnover ratio wasn't as stellar as usual. Defensively, Jones was solid. The Nets were running shooters around screens on a nonstop basis and Jones was successfully able to navigate most screens.
Grade: C+
Jeremy Sochan
It was a tale of two halves for Sochan. In the first half, he looked like the best player on the court. He had 16 points on 6-for-9 shooting from the floor and he hit both of his three-point attempts. Defensively, he was all over the place. His combination of strength, feistiness and quickness was impactful. In the second half, Sochan was scoreless. He tried to do too much and it ended up backfiring. The good news is that he kept defending at a high level despite his second half offensive struggles.
Grade: A-
Romeo Langford
Langford has played either 17 or 18 minutes in four straight games despite starting all four games. In that stretch, his play as a starter has regressed. He's shooting 30.4% from the field in his last four games and his defensive intensity is beginning to wane. The silver linings against the Nets were his rebounding and his passing, which were both better than normal.
Grade: C-
Josh Richardson
Richardson's stats don't jump off the screen but he played well once again. Defensively, he's really giving it his all. Of the perimeter players, his switches are the cleanest and he's consistently giving extra effort throughout possessions. Offensively, his passing wasn't as notable and his three-point shooting was off … but, then again, he still led the bench in scoring and helped the offensive flow.
Grade: B
Zach Collins
The good: Collins rebounded well, defended the rim, passed it well and ran the court hard. His overall activity level was higher than usual. The bad: Collins had four turnovers and three fouls in 24 minutes. That's too many mistakes for a backup center who played 24 minutes.
Grade: C+
Doug McDermott
After missing a game due to back tightness, McDermott was back in the lineup against the Nets. Unfortunately, he wasn't moving too well — which isn't something that's said often about McDermott. Not being as quick around screens resulted in him getting few open looks. It also negatively impacted him defensively.
Grade: C-
Malaki Branham
I really liked the aggression and assertiveness that Branham played with but his lack of marksmanship overshadowed everything else. He had great looks from deep but missed all five of his three-point attempts. The good news is the rookie looked smooth pulling up off the dribble, passed the ball well and finished the game without a turnover. His defense was also adequate.
Grade: C
Keita Bates-Diop
Bates-Diop was in the rotation in the second half. He … didn't do much. He was active on the boards and helpful in transition. His defense was loose but San Antonio wasn't burned in Bates-Diop's seven minutes of playing time.
Grade: C
Stanley Johnson
Johnson was in the rotation in the first half before losing his spot in the second half to Bates-Diop. Why did he lose his spot? Defensively, he made a couple of mistakes. Specifically, he didn't close out properly on a couple instances. On offense, he dribbled into a crowd a few times. Honestly, though, I didn't think Johnson played poorly enough to be benched. I continue to like his passing and the hard work he puts in on the defensive end.
Grade: C
Pop
It's difficult to be too upset with Pop's rotation. He remained confident in Sochan and Branham, which is important. Pop leaning on K. Johnson as much as he did paid dividends and should be good for his development down the line. The play-calling made sense and helped San Antonio get the win.
Grade: B+