Grades: San Antonio Spurs at Indiana Pacers – Game #2
The San Antonio Spurs bounced back from a disappointing regular season opener by beating the Indiana Pacers by a final score of 137-134. The Spurs had control of the game for much of the night before nearly collapsing late in the fourth quarter. Instead, San Antonio held on to improve to 1-1 on the season.
After hitting just 7-of-34 three-pointers versus the Charlotte Hornets in the opener, the Spurs relied on threes to open up a big lead against the Pacers. After 26 minutes of play, San Antonio was 14-for-22 from three-point land and the Spurs were up by 20 points.
By the fourth quarter, the threes had dried up for the good guys and their defense began to crumble. The Spurs were 0-for-2 from deep in the fourth and allowed the Pacers to score 49 points in the period. But, in the end, San Antonio did just enough to notch the road victory.
Spurs at Pacers – Final Grades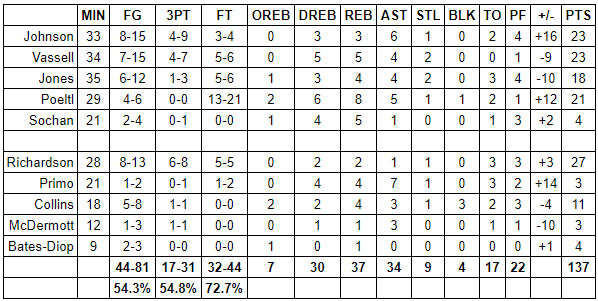 Keldon Johnson
It was another rock solid outing for Johnson. His aggression shooting threes opened up drives to the basket. He was also regularly finding open teammates and rarely forced the issue. Defensively, Johnson was good early on but got worse as the game progressed. Overall, the early returns are promising regarding Johnson's ability to be a primary scorer. When plays were called for him (including a new-look post-up set), he delivered again and again.
Grade: A-
Devin Vassell
It was outstanding to see Vassell rebound from a horrid opener against the Hornets. In this game, Vassell was a completely different player. He took smart shots and never rushed or lost confidence. His passing was much better and his driving to the hoop paid dividends. Vassell's defense could have been better but, all in all, this was a very encouraging outing considering the way his season started.
Grade: A-
Tre Jones
Jones did well. He was sloppier with the ball than usual but the rest of his game was impressive. His peskiness and energy on defense made a difference. On offense, he used his speed well to break down Indiana's defense. Jones has a habit of deferring too much but this game he kept the pedal to the metal.
Grade: A-
Jakob Poeltl
The Pacers went to the Hack-a-Jak strategy in the fourth quarter — and the strategy almost worked. Poeltl hit just enough freebies at the line to help the Spurs hang on. Beyond his free throw parade in the fourth, Poeltl was mostly good. His passing and decision-making on offense was a plus. Defensively, he was a force in the paint — particularly early on. That said, his transition defense was poor.
Grade: B+
Jeremy Sochan
Sochan got another start and continued to show a lot of promise. Defensively, there were moments where he looked special. From defending beyond the three-point line against guards to throwing his body around in the paint, Sochan is shockingly advanced on that end for a 19-year-old. He still has work to do but it's obvious that the tools and the instincts are there for him to become an ace defender. Offensively, it's still very much a work in progress but his ball-handling and basketball IQ are allowing him to stay relevant. 
Grade: B
Josh Richardson
Richardson was terrible in the season opening loss. For an encore, Richardson might have had his best game in a Spurs uniform. He hit 6-of-8 three-pointers, including a few bombs from way out. His 27 points from off the bench were arguably the main reason why the Spurs got a win. Beyond his shooting, Richardson helped out with ball-handling and playmaking duties. Defensively, it was a mixed bag but he had a couple key hustle plays.
Grade: A
Joshua Primo
The good: Primo's playmaking was really good, as evidenced by his team-high seven assists in 21 minutes. His court vision is expansive and he can make snap decisions on the move. Primo didn't force things scoring-wise, which showed maturity. The bad: Primo had some real issues handling the ball. It's going to be tough for him to be a point guard if he can't dribble under pressure. His passes are also too often off target or telegraphed. Defensively, Primo was really bad for most of the night.
Grade: C+
Zach Collins
Collins is another player who bounced back from a forgettable performance in the opener. With three blocks against the Pacers, he now has seven blocks in two games. He was much stronger in this game in the paint and on the boards. Offensively, he was a definite plus. From savvy passes to perimeter jumpers, Collins was in the middle of the action when he was on the court.
Grade: B+
Doug McDermott
McDermott had a quiet night at the office. He had one good look from three-point land — but that was about the extent of his production on that end. Defensively, he played at his normal level.
Grade: B-
Keita Bates-Diop
Bates-Diop once again saw action as the team's backup power forward. He had a couple slick plays at the basket and avoided any mistakes of note.
Grade: B
Pop
I can't complain too much about the rotation. A little bit of a longer leash for Sochan and Primo would have been nice, though. It felt like Pop should have subbed out Poeltl during the Hack-a-Jak but I guess it worked out well enough. Running new plays for Johnson and Vassell was great to see.
Grade: B