Grades: San Antonio Spurs vs. Indiana Pacers – Game #63
After losing 16 straight games, the San Antonio Spurs have now put together a two-game winning streak. San Antonio's latest conquest came on Thursday night versus the Indiana Pacers in the AT&T Center. The win improved the Spurs to 16-47, while the loss dropped the Pacers to 28-36.
It was not the most auspicious start for the good guys. At the end of the first quarter, the Spurs trailed 29-21. However, the Spurs bounced back in the second quarter and the score was 54-52 at halftime. Then, in the third quarter, San Antonio got rolling. They outscored Indiana 31-16 in the third quarter to roll into the fourth period with a double-digit lead.
In the final stanza, the Spurs grew their advantage to as hefty as 18 points before the Pacers were able to battle back. Thankfully for the Silver and Black, Indiana never really got within striking distance and the Spurs were able to notch a 110-99 victory.
Overall, it was a good win. Sure, beating the Pacers without Tyrese Haliburton isn't a monumental accomplishment — but it was impressive given the circumstances. The Spurs didn't have the services of Keldon Johnson (foot injury), head coach Gregg Popovich (illness) or lead assistant coach Brett Brown (illness) but they won by defending with toughness and sharing the ball on offense. Well done.
Spurs vs. Pacers – Final Grades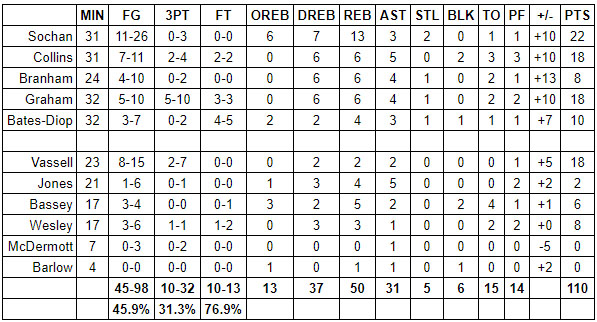 Jeremy Sochan
For developmental purposes, the Spurs want Jeremy Sochan to be assertive on the offensive end. On Thursday night, he was very, very, very assertive. He attacked early, often and without restraint or second-guessing. The rookie totaled 26 field goal attempts in 31 minutes. While his shot-selection wasn't always the wisest, it was great to see him spread his wings to figure out how high he can fly in this league. Though his 11-for-26 showing from the field wasn't the best, he was very productive. He finished with 22 points, 13 rebounds, three assists and two steals. Sochan was all over the court on both ends of the court. His defense was very good and he helped the offense by angrily attacking mismatches. Despite all of his relentless action on the court, he only had one turnover and one foul. All in all, this wasn't the cleanest game from Sochan but it will unquestionably go down as a positive step in his development as an NBA player.
Grade: A-
Zach Collins
Bouncing back from a 2-for-15 shooting night against the Jazz, Collins was a force on the offensive end versus the Pacers. He had 18 points on 11 shot attempts, hit a pair of three-pointers and was the best passer on the team. His passing from the perimeter was pristine. He flashed court vision and had perfect timing and touch on his passes. Defensively, I was impressed. He was physical on the boards, defended the hoop unceasingly, laid his body on the line multiple times and moved his feet well. This goes down as one of Collins' better games in Silver and Black.
Grade: A
Malaki Branham
Branham was listed as questionable on the injury report prior to this game due to a back bruise. The rookie was able to play and he did okay. His shooting from the perimeter wasn't the greatest but his floaters in the lane were silky smooth. Branham was also trustworthy in terms of making the right passes at the right times. Defensively, I thought the rookie showed much more chutzpah than usual. He battled in one-on-one matchups, went after rebounds and was extra enthusiastic about his efforts on that end.
Grade: B
Devonte' Graham
I thought Graham did a much better job of sticking to his strengths and just doing what he does. Offensively, he played the role of a volume three-point shooter — and that's exactly what he is as a player. From catch-and-shoot threes to self created three-pointers in transition to step-back threes, he was letting them go. He ended up hitting half of his ten three-point attempts and all three of his free throws. Graham also chipped in with six rebounds and four assists while playing adequate defense and successfully pushing the pace.
Grade: A-
Keita Bates-Diop
Bates-Diop's numbers don't jump out of the screen but I thought he did well. He efforted on defense, particularly on the fast break. He made the right passes. Bates-Diop also took the ball to the rim with authority, which helped get him to the free throw line for five freebies. He's not super active out there but he's doing things that help the team succeed — which, historically, hasn't consistently been the case with Bates-Diop.
Grade: B+
Devin Vassell
Welcome back, Devin Vassell! After missing 25 games following arthroscopic knee surgery, Vassell didn't hesitate at all in his return. The early returns weren't the greatest, as he hit only one of his first six shots from the field. But after that slow start, the pre-surgery Vassell we know and love reemerged. He hit seven of his final nine shots and continued to fire away without a care in the world. Athletically, he looked fine; he didn't seem slowed or hampered following the knee surgery. As it turned out, the Spurs don't win this game without getting 18 points from Vassell in 23 minutes.
Grade: A-
Tre Jones
Jones was back in action after missing nine of the previous ten contests with a sore foot. While it was good to see him back out there, he didn't look quite right. His speed and jumping ability were muted and he wasn't getting from spot to spot as effortlessly. Despite the physical limitation and his 1-of-6 shooting from the floor, Jones still found ways to help. He corralled loose balls with ferocity, ran the offense well, and finished with five assists and zero turnovers in 21 minutes.
Grade: B-
Charles Bassey
The good: Bassey exhibited a healthy amount of awareness on offense. His touch in the lane was soft, he crashed the glass on multiple occasions, he had a couple of impressive blocks and his court vision continues to surprise. The bad: Bassey got sloppy on a couple passes and his hands weren't as supple as usual. As a result, he finished with a team-high four turnovers in 17 minutes. His help-defense was decent but his individual defense could have been better.
Grade: B-
Blake Wesley
It was another solid outing for Wesley. It appears as if the rookie is starting to figure this NBA thing out. He was still wild at times, yes, but he was much more under control overall, comparatively speaking. He remained focused on both ends, found teammates and utilized his blazing speed to his advantage. There were glimpses of his vast defensive potential here and there. At other times, you could see the markings of a dangerous offensive weapon. There's work to do but this was a step in the right direction for Wesley.
Grade: B+ 
Doug McDermott
McDermott left the game with a thumb injury after seven minutes. Before exiting, he had missed all three of his shots, including both of his three-point tries.
Grade: Inc.
Dominick Barlow
Barlow only played four minutes but I liked what I saw. On his first couple possessions, his hustling paid immediate dividends. He also authored an impressive block and his movement on both ends was extremely fluid.
Grade: Inc.
Mitch Johnson
I thought Mitch Johnson was great in replace of Pop and Brown. His play-calling was practically flawless. The rotation made sense. He avoided overplaying Vassell and Jones coming off injuries. He didn't panic in the fourth when things tightened up. He also got the team to buy in on the defense end as much as they have all season. Johnson looks like a future head coach in the NBA. And probably sooner rather than later.
Grade: A