Grades: San Antonio Spurs vs. New Orleans Pelicans – Game #19
Another game, another blowout loss for the San Antonio Spurs. This time, the New Orleans Pelicans (11-7) did the blowing out. The Spurs dropped to 6-13 following the 129-110 loss in the AT&T Center. San Antonio has lost six straight games and 12 of their last 13 contests. In their six-game slide, they've lost by an average of 22.3 points. 
Did the Spurs show any signs of getting back on track? No, not really. They trailed by 14 points halfway into the first quarter — and that was basically the end of the competitive basketball. San Antonio's offense was horrible to start the game and then their defense was a disaster in the middle two quarters.
Next up, the Spurs have back-to-back games against the Los Angeles Lakers in the AT&T Center. It'd be nice if the good guys could get a win for a morale boost and to temporarily stop the bleeding.
Spurs vs. Pelicans – Final Grades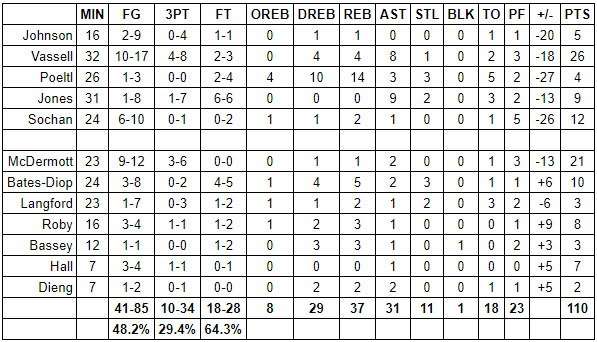 Keldon Johnson
Johnson's road to becoming San Antonio's go-to scorer has hit a rough patch. In his last three games, he's been really bad — there's no other way to say it. In that stretch, he's 11-for-44 (25%) from the field and 2-for-19 (10.5%) on three-pointers. What's wrong? He's rushing contested three-pointers and driving to the hoop without a plan. He has a grand total of two assists in those three games, which paints the picture of how much Johnson is struggling to see the floor right now. Tonight, he got benched after only 16 minutes due to a combination of bad, hurried offense and ineffective, uncaring defense. Is it time to panic? I don't think so. These are the growing pains go-to scorers always go through. Hopefully Johnson learns from this bumpy section of road and comes out better on the other side.
Grade: F
Devin Vassell
Even with Johnson struggling, Vassell keeps on improving on the offensive end. It's getting to the point now where the Spurs might view Vassell as their true No. 1 option. Tonight, he pumped in 26 points on 10-for-17 shooting from the field and 4-for-8 shooting from three-point range. Just as impressively, Vassell tallied a career-high eight assists and kept his mistakes to a minimum. Defensively, he was above average.
Grade: A
Jakob Poeltl
The good: Poeltl was strong on the glass, active in the passing lanes and authored a couple good passes. The bad: Poeltl was painfully timid on the offensive end. He wasn't noticing mismatches and the aggression he's played with in recent weeks on that end was nowhere to be found. He also turned the ball over five times in 26 minutes, which obviously didn't help matters. Defensively, Poeltl wasn't defending the rim as well as usual.
Grade: C-
Tre Jones
The good: Jones tallied nine assists and didn't have any notable ball-handling issues. Considering the Pelicans pressured him, it's great that Jones was still able to bring the ball up with relative ease. I liked that Jones shot seven three-pointers — he needs to shoot open threes to become a legit starter in this league. The bad: Jones only hit one of those seven threes. His form isn't as smooth as it was earlier in the season. It also looked like he lost confidence in trying to finish at the rim. Jones was a great finisher last season but has been statistically the worst finisher in the league this season. Defensively, he had little to no impact tonight.
Grade: C- 
Jeremy Sochan
The good: Sochan scored well within the arc. He utilized a variety of moves and is becoming good at overwhelming small defenders with his size, strength and athleticism. While his assists numbers were nothing to write home about, Sochan had some heady passes — and only turned it over once. The bad: Sochan doesn't want to shoot three-pointers, which is hurting the offense. Two rebounds for a starting power forward isn't going to cut it. Sochan also battled persistent foul trouble mostly due to unwise decisions.
Grade: B-
Doug McDermott
I'm not sure if the Spurs would have cracked 80 points if McDermott didn't inject life into the team in the first half. When everything was crumbling around him, McDermott checked in and got right to McBucketing. His aggressive and confident ways seemed to unlock San Antonio's offensive flow. Sure, his defense wasn't impressive at all but things would have gotten much uglier without his veteran presence on this night.
Grade A
Keita Bates-Diop
Bates-Diop provided some vivacity off the bench. His decision-making was shaky at times but he played with enough conviction that even his mistakes could be overlooked. Offensively, he didn't hesitate to attack. Defensively, Bates-Diop was much more of a difference-maker than usual.
Grade: A-
Romeo Langford
I liked Langford on the defensive end. His positioning was smart and he wasn't afraid to get his hands dirty. Sadly, his offense is so bad that it's difficult to justify putting him on the court. There's no evidence that he has an outside jumper, he has sub par court vision, he can't really dribble the ball in traffic and he isn't a special athlete when he gets to the rim. Langford looks like he can be a positive defender who plays the game with a high basketball IQ — but I don't see what he can do offensively to stop him from being a major liability on that end.
Grade: C
Isaiah Roby
Roby was solid. He used his athleticism well, drained another three via pristine form and was someone the Pelicans had to account for in transition. Unfortunately, he once again made mistakes that left me shaking my head. Roby can do a lot of good stuff on a basketball court — but he also has a lot to learn in terms of how to properly play the game.
Grade: B
Charles Bassey
Unfortunately, it looks like Bassey's early success in a Spurs uniform was something of a fluke. Tonight, he didn't look like anything more than a future third string center. Big picture-wise, Bassey simply doesn't move that well. He's not much of an athlete and doesn't have dependable hands or a notable feel for the game. Versus the Pelicans, there were a few balls he needed to retrieve that bounced right off his fingertips. Bassey doesn't really understand where to go on offense and his perimeter defense is getting exploited left and right. Let's hope that the real Bassey is the guy we saw in his first four or five games with the Spurs and there is currently something holding him back. As it is, there's no question that Zach Collins will retain the backup center job and Bassey will probably need to go back to Austin to rediscover his game.
Grade: C-
Jordan Hall
Hall is looking more and more interesting. He's not athletic but he plays a smart and crafty brand of basketball. Hall looks like a natural when it comes to dribbling, passing and even shooting the ball. He probably won't become anything more than a useful bench piece but he's starting to make me believe he's an actual NBA-caliber player. I mean, for example, it's getting difficult to figure out why Langford is ahead of Hall in the rotation.
Grade: B
Gorgui Dieng
Dieng knocked down a jumper, made a couple good passes and didn't show any signs of rust. Even when he's on the bench, it's becoming clear that Dieng is the leader of this young Spurs squad.
Grade: B
Pop
Benching Johnson two minutes into the second half was classic Pop. But … Pop never put him back in the game. I think Johnson can handle getting coached hard but it would have been nice to see him get another chance to work his way out of his current slump. The rest of the rotation was okay-ish. The Spurs desperately needed more guard play so more Hall probably would have helped matters. It may sound crazy but, with Josh Richardson out with an injury, Hall was legitimately the only player outside of Jones who exhibited clear guard skills. 
Grade: C+