Spurs Players React to Loss of Chadwick Boseman, Cliff Robinson, and Lute Olson
Over the past several days, the world lost several individuals who had a lasting impact on many people in the world, including athletes. Actor Chadwick Boseman, former NBA star Cliff Robinson, and former college coach Lute Olson all passed away in the last four days. That brought reactions from fans and NBA stars including San Antonio Spurs players DeMarcus DeRozan, LaMarcus Aldridge, and more.
Spurs Players React to Chadwick Boseman Passing
Actor Chadwick Boseman passed away on Friday at the age of 43 after a four-year battle with colon cancer. He's well known for the starring role he had in the Marvel Avengers films, as he portrayed popular comic book superhero, Black Panther. The 2018 movie featured the powerful "Wakanda Forever" phrase that has since gone viral and includes placing one's arms folded in an X across the chest.
Spurs star DeMar DeRozan took to his Instagram Story (below) not long after the news of Boseman's passing arrived. He mourned the loss of Boseman, an actor who many NBA players enjoyed seeing on the screen.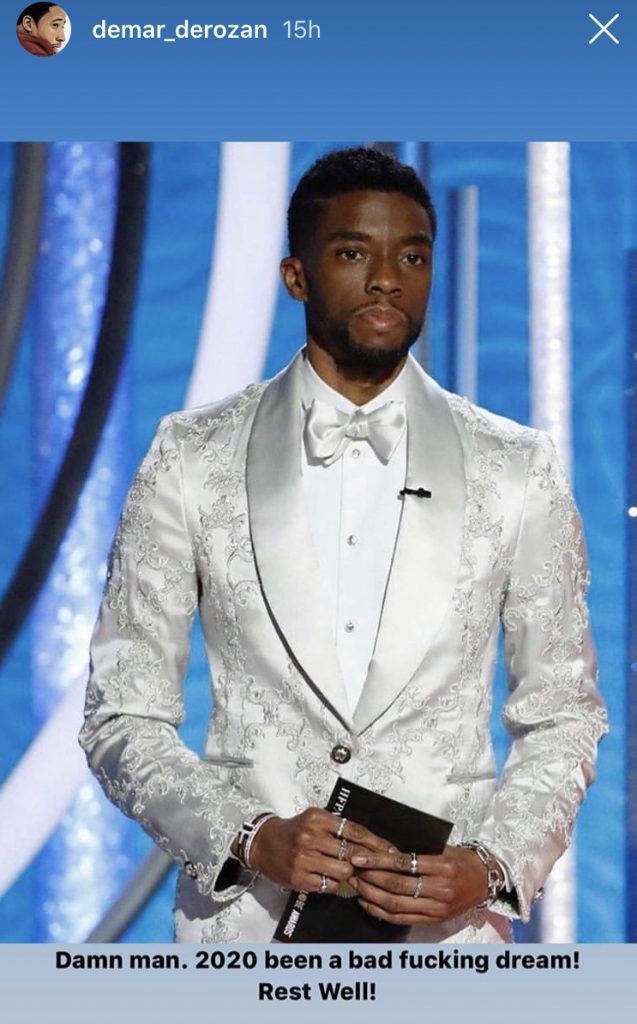 Back in 2018, DeRozan was still with the Toronto Raptors but gave a salute to the Black Panther on the court. This came as the movie continued to enjoy popularity. It was said DeRozan was channeling his "inner Black Panther" in tribute to the superhero's scenes on the big screen.
San Antonio's big man LaMarcus Aldridge has been rehabilitating after season-ending shoulder surgery. He took some time out to share a special video clip from a Chadwick Boseman speech at an awards ceremony. The speech focuses on the popularity of Black Panther and getting people to see movies differently.
Spurs veteran Rudy Gay was part of the recent NBA bubble games for the team. He took a moment to pay tribute to how hard Boseman worked. Gay posted a social media image of the actor wearing a No. 42 Jackie Robinson ball cap. Prior to his Marvel days, Boseman played the iconic athlete in a movie bearing Robinson's name.
Cliff Robinson Passes Away at Age 53
Rudy Gay was also one of the NBA players who posted a tribute to former Portland Trail Blazers star, Cliff Robinson. The former All-Star died at age 53 on Saturday.
Robinson, a standout from the University of Connecticut, played in the league for 19 seasons. He was named NBA Sixth Man in 1992-93, and selected for the All-Star team in 1993-94.
In addition, "Uncle Cliffy" was a two-time All-Defensive team player. He appeared in the NBA Finals with the Blazers against Michael Jordan's Chicago Bulls.
Gay, who also was a star for the UCONN Huskies in college, shared a post to remember Robinson.
After eight seasons with Portland, Robinson's career would take him to the Phoenix Suns, Detroit Pistons, and New Jersey Nets. During his years, he crossed paths on the court with a number of star Spurs players. That included greats like Sean Elliott, David Robinson, and Tim Duncan.
Former Spurs Star Sean Elliott Reflects on Lute Olson
Prior to Boseman and Robinson, former college basketball coach Lute Olson passed away at age 85 on Thursday, Aug. 27 after suffering a stroke. Olson was the head coach for Long Beach State and Iowa before taking over as Arizona coach for 15 years.
Amongst former Wildcats to excel in the NBA were Andre Iguodala, Gilbert Arenas, Richard Jefferson, and Spurs All-Star Sean Elliott. The Rivals website Go AZ Cats shared several players' thoughts upon the passing of their former coach.
"If you were an Arizona basketball player you're expected to be more than just a basketball player," former Spur Sean Elliott said.
"You're an ambassador for the university, you're an ambassador for the team, you're an ambassador for the city, and he was the first coach that played for who really emphasized giving back and being a productive member of your community not just being a basketball player."
"Coach just cared immensely about his players, and part of being a great coach was also fostering terrific young men and that was just part of it," the former All-Star said.
Elliott played for Lute Olson at Arizona from 1985 through 1989, before becoming the Spurs' No. 3 pick in the 1989 NBA Draft. Olson helped mold a future All-Star, who ended up part of the first-ever San Antonio championship in 1999.
Elliott was one of many stars during Olson's time at Arizona. Go AZ Wildcats mentions that players under Olson went on to make a combined $1.1 billion in salary and 20 NBA Championships.
NBA Pays Tribute to Robinson, Olson, and Boseman
Prior to Saturday's NBA Playoffs matchup between the Milwaukee Bucks and Orlando Magic, the NBA held a moment of silence. It was to serve as a tribute to all three of the memorable figures. Other players around the league also posted tributes on social media including Donovan Mitchell, LeBron James, and Damian Lillard.
It's clear that Lute Olson, Cliff Robinson, and Chadwick Boseman have touched the world in different ways with their gifts and personalities. Based on just the Spurs players' reactions and the NBA tribute given, they impacted the lives of many people around the world. Visit our Spurs archive page for more team and player news.