Grades: San Antonio Spurs at Toronto Raptors – Game #55
The San Antonio Spurs lost their tenth straight game on Wednesday night against the Toronto Raptors. The Spurs actually played well in the first half but they lost control of the game in the final two quarters. When the dust settled, the Raptors had a 112-98 victory.
The biggest news of the night came after the game when the Spurs and Raptors completed a trade to send Jakob Poeltl back to Toronto. San Antonio followed up that move at the NBA trade deadline by dealing Josh Richardson to the New Orleans Pelicans for Devonte' Graham and four second round picks.
See: Evaluating the Jakob Poeltl Trade
See: Thoughts on the Josh Richardson Trade
Spurs at Raptors – Final Grades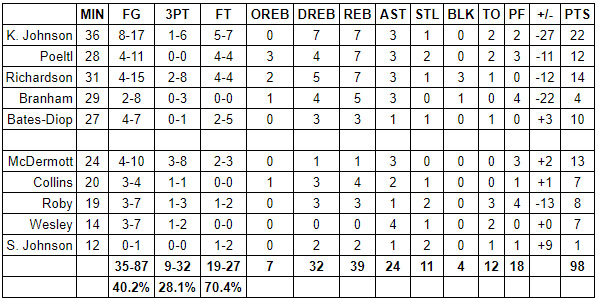 Keldon Johnson
Another day, another game where Johnson did most everything well offensively other than shoot three-pointers. He hit 7-of-11 two-points, handed out three assists and was 5-of-7 from the free throw line. Johnson's finishing was great and he was exceptionally physical on the move. Defensively, he rebounded well but otherwise was a step slow in rotations and in man-to-man situations.
Grade: B
Jakob Poeltl
In Poeltl's final game in Silver and Black, he started off really slow. He was missing open shots, giving up shots at the rim and was lazy in transition. To Poeltl's credit, he got better as the game progressed. Eventually, he was an asset on offense and was moving much better on defense. Farewell to the big man frmo Austria. It was fun rooting for him for the last five seasons.
Grade: C+
Josh Richardson
In Richardson's final contest with the Spurs, he struggled with his shooting. He was only 2-for-7 from three-point range and 2-for-8 behind the arc. He was getting good looks, they just weren't hitting cord. Richardson made up for his wayward shooting by hitting the boards, authoring heady passes and playing very active defense. For the last month or so, Richardson has arguably been the best player on the Spurs on a minute-for-minute basis. While he didn't play for San Antonio long, he seemed to connect to the community and buy into the organization's concepts. Richardson will always be a good guy in my book.
Grade: B
Malaki Branham
After a pair of games where Branham scored career-highs, the rookie has put together a pair of clunkers. He's now 8-for-26 in his last two games. Branham is having a bit of trouble getting shots off in these last two games. We'll see if it's due to the league making an adjustment on him or whether it's simply a cold stretch. Branham had a few positive moments on defense and made a couple good passes — but Wednesday night was mostly a struggle for the rookie.
Grade: C
Keita Bates-Diop
Bates-Diop didn't move the needle a whole lot. He had a few slick finishes but also missed three free throws and his decision-making was delayed. Defensively, Bates-Diop's length helped him against a long Raptors squad. He wasn't great on that end but he managed to get his arms in the way a few times.
Grade: C+
Doug McDermott
I really liked McDermott's energy. His constant movement was even more relentless than usual. McDermott's energetic ways opened up avenues for him and his teammates to thrive. He also made smart passes and rarely tried to do too much. McDermott's defense was also a little bit better than usual.
Grade: B+
Zach Collins
Going forward, Collins is the likely starter in place of Poeltl. In what could be his last game as a reserve, I thought he did well. He was efficient offensively, limited his mistakes and only committed one foul in 20 minutes. His defensive physicality was helpful and his athleticism was a bonus in the paint.
Grade: B+
Isaiah Roby
Roby is getting better about thinking less and just playing. He's letting shots fly that he wouldn't have dared to shoot earlier in the season. His freneticism is also leading to playmaking on the defensive end. With the season more than halfway over, it seems like Roby is just now getting comfortable.
Grade: B
Blake Wesley
Better. Coming off a game in which he really struggled to do anything right, Wesley made notable improvements in Toronto. His passing was solid. He remained under control. Other than one or two attempts, I thought his shot-selection was smart. Wesley still has a lot to learn in terms of understanding the sport — but it looks like he could get there.
Grade: C+
Stanley Johnson
Johnson scored only one point in 12 minutes but he had a definite impact on the game. His defense was ultra sturdy and he was creating offense by moving, passing and setting screens. Johnson needs to be more assertive scoring-wise but the rest of his game was impressive.
Grade: B+
Pop
Without Devin Vassell, Tre Jones, Jeremy Sochan and Romeo Langford, Pop doesn't have a lot to work with. The Spurs kept it together until halftime before the talent disparity became too much to handle. Rotations-wise, I thought Pop was fine. Not much more could have been done, truth be told.
Grade: B