Grades: San Antonio Spurs vs. Toronto Raptors – Game #8
The San Antonio Spurs fell to 5-3 on the season after getting obliterated by the Toronto Raptors by a final score of 143-100. The Spurs struggling tonight wasn't difficult to predict after it was announced that the good guys would be without their top two scores, Keldon Johnson and Devin Vassell, due to injury.
The Raptors were simply too big, too talented, too athletic and too together for the Spurs to even compete with tonight. San Antonio made a run in front of their home fans in the first quarter — but the game was all but over a few minutes into the third quarter.
In addition to Johnson and Vassell, the Spurs were without Blake Wesley (sprained MCL) and Isaiah Roby (illness). During the game, they lost Jeremy Sochan (illness), Tre Jones (shoulder) and Romeo Langford (head). So, yeah, classify this contest under the word "forgettable."
Spurs vs. Raptors – Final Grades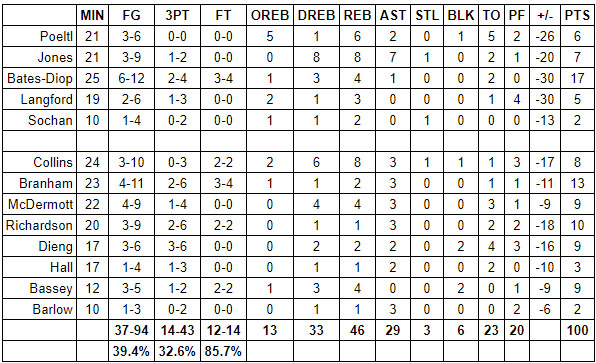 Jakob Poeltl
Poeltl is having an outstanding season but this game showed the limits of what he can be on offense. The Spurs tried to use him as a go-to offensive threat — and it didn't work. The Raptors were swarming him and his five turnovers in 21 minutes tell the story of how that went.
Grade: D
Tre Jones
This wasn't a good outing for Jones. His speed up and down the court was helpful and he was really quick to loose balls — but that was about the extent of his value. His passing was substandard, his running of the offense was laggy and he struggled to finish his floaters in the lane. Fishing has been an issue for Jones over the last few games — let's hope he gets back on track in that department soon.
Grade: C-
Keita Bates-Diop
Bates-Diop gave a good effort. Even when there were seemingly six Raptors clawing at him, he found ways to put points on the board. With so much ineptitude around him, Bates-Diop being able to score stood out as one of the few positives from this contest.
Grade: B+
Romeo Langford
Langford was great last game. This game? Not so much. He was efforting on defense but the results were missing. Offensively, he was more aggressive than usual but he still can be a lot more demonstrative on that end. He was probably the most talented offensive player in the starting lineup but he was too willing to blend into the background.
Grade: C
Jeremy Sochan
Sochan gave it a go after missing the previous game with an illness. Unfortunately, he wasn't able to play after halftime due to still feeling sick. In his ten minutes as a starter, Sochan was decent-ish. His three-pointers were way off the mark but his ball-handling, perimeter defense and running of the court helped the cause.
Grade: B-
Zach Collins
Collins had a tiring night at the office. He was giving it his all and sacrificing his body at ever turn. Sadly, at the end of the night, there weren't a whole lot of positives to report. Collins passed it well and battled on the boards but his discipline on both ends was lacking and he was too often out of control.
Grade: C+
Malaki Branham
Not bad, rook. Offensively, Branham looks legit for a 19-year-old rookie playing his second ever NBA game. He has a quick release, can shoot off the dribble and doesn't have any problems making the right pass. Athletically, Branham doesn't stand out, which makes it difficult for him to finish at the rim or defend. He was trying on defense but he was having little to no success on that end.
Grade: B
Doug McDermott
McDermott was cutting well, passing well and launching the shots he needed to launch. That said, Toronto's length and athleticism were cutting down on McDermott's open lanes so he struggled more than usual to be an asset on offense. Defensively, it was difficult for the Spurs to hide him.
Grade: C+
Josh Richardson
Richardson played backup point guard and he was okay. His ball-handling was questionable at times and he struggled to get the team into its sets. Then again, the Spurs would have been in even more trouble without Richardson's sporadic playmaking. 
Grade: B-
Jordan Hall
Shockingly, Hall was actually in the real rotation tonight hours after he was signed to a non-guaranteed one-year deal. Hall played for the Spurs during summer league and in preseason and didn't do much in either venue. For that reason, while his numbers don't say much, he was better than I expected. For a player who is 6-foot-7, he obviously has high basketball IQ and advanced perimeter knowhow. Then again, it's not clear what he can do on the court other than make the right pass, hit the occasional three-pointer and play sub par defense. Hall is big but he's unathletic (really unathletic) — so he'll need to become extremely skilled to carve out a niche in the league.
Grade: B-
Gorgui Dieng
Dieng didn't play until the game was all but over. He hit half of his six three-point attempts but his defense was a step slow and he had trouble controlling the ball.
Grade: C
Charles Bassey
Bassey flashed some interesting skills in garbage time. He's big, he can jump high, he has good timing and his jumper looks really smooth. Obviously, he has a lot to prove in terms of knowing how to play the game and being able to move his feet on the perimeter … but Bassey looks like a good prospect for a two-way contract.
Grade: B
Dominick Barlow
Barlow looked nervous in his NBA debut. He panicked on the defensive end when attacked, which made him appear less coordinated than he actually is. Offensively, he spent most of his time out on the perimeter and he looked relatively comfortable for an undrafted rookie center.
Grade: C+
Pop
It didn't look like Pop was serious about trying to win this game. The starting five was painfully inept offensively — and that was obvious before the opening tip. That's not a fivesome that can start in the NBA. And then he put Hall in the rotation? That's cool for tanking purposes but highly questionable if being competitive was a consideration tonight.
Grade: D