SpursTalk Exclusive: Spurs Resolve Lawsuit in Joshua Primo Case
Earlier this month, a former sports psychologist for the San Antonio Spurs filed a lawsuit alleging the organization failed to take action after Joshua Primo exposed himself to her on multiple occasions. In the lawsuit, Dr. Hillary Cauthen claimed she was exposed a total of nine times, with the first incident occurring in December of 2021.
SpursTalk has learned that the lawsuit has been resolved.
"The parties have agreed to resolve this matter," Tony Buzbee told SpursTalk exclusively. Buzbee, Cauthen's attorney who earlier held a press conference to detail his client's claims, didn't offer any further details.
SpursTalk attempted to contact the Spurs organization to confirm that the lawsuit has been resolved but all calls and emails were ignored.
The Spurs waived Primo on Oct. 28, four games into the 2022-23 NBA season. The 19-year-old guard was in his second season with San Antonio after being drafted with the 12th overall pick in the 2021 draft. He was averaging 7.0 points, 4.5 assists and 3.3 rebounds in 23.3 minutes per game and was serving as the team's backup point guard.
In addition to the lawsuit, the Bexar County Sheriff's Office is reportedly investigating Primo for incidents alleged by Cauthen. SpursTalk reached out to Primo's lawyer, William J. Briggs, to ask about the status of his client. Briggs, through a spokesperson, declined to comment.
Through 15 games, the Spurs have a record of 6-9. Despite the losing record, Keldon Johnson, Devin Vassell and others have played really well. To help fill the void left by releasing Primo, the Spurs have used multiple players at backup point guard, including rookie Jeremy Sochan.
Primo is a free agent and can sign with any team in the league. The NBA hasn't stated whether he faces any punishment for the incidents described in the lawsuit.
Comments/Corrections?
[email protected]
210-314-8151
Update (2:56 p.m. Central)
The Spurs provided the following statement: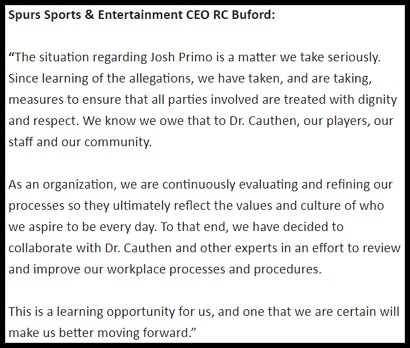 Update (4:31 p.m. Central)
In response to a question regarding whether there is an active criminal investigation involving Joshua Primo, the Bexar County Sheriff's Office provided this statement:
"An interview of the complainant was scheduled and conducted on November 3, where the complainant provided her statement. The complainant's account is being investigated and evidence is being sought. At this time, the investigation is ongoing."