Why the Spurs Should Sign Dejounte Murray to a Contract Extension Right Now
The San Antonio Spurs and Dejounte Murray have until 5 p.m. CT on Monday to reach an agreement on a contract extension. If a deal for an extension isn't reached, Murray will become a restricted free agent next summer.
After missing all of last season with a torn ACL, Murray flashed his potential during preseason over the last couple weeks. The 23-year-old started all five games at point guard and didn't appear slowed at all by the knee injury. And despite an underwhelming performance against the Memphis Grizzlies in the last preseason game, Murray's preseason statistics showed a marked improvement in virtually every category compared to his 2017-18 numbers.

The across the board growth is impressive. Points up, assists up, turnovers down, free throw rate up, etc. The only slight dip is in rebounding but that's because Murray was busy spreading the court instead of hanging around the basket for offensive rebounds. His rate of three-point attempts still has a lot of room for escalation but he's already shooting them 2.5 times more frequently than the last time we saw him play NBA basketball.
Estimating the Cost of a Dejounte Murray Contract Extension
It's easy to say the Spurs should sign their young point guard to a contract extension. The difficult part is figuring out what a fair extension to both parties would look like. The first step would be to look at the contracts signed this past summer by comparable players.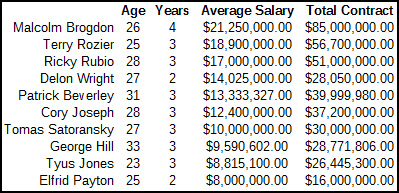 While Murray is a good, young prospect, it's safe to say he hasn't proven himself to be on the same level as the first three names on the list. Malcolm Brogdon is a proven commodity coming off a very strong season. Ricky Rubio is still on the right side of 30, a strong defender, a talented playmaker and a proven starter.
A lot of critics said Terry Rozier was overpaid this summer but let's not forget that two seasons ago he led the Boston Celtics to the Eastern Conference Finals as a starting point guard with averages of 16.5 points, 5.7 assists and 5.3 rebounds during the postseason run. Two seasons ago, Murray averaged 8.1 points, 5.7 rebounds and 2.9 assists.
That said, Murray's obvious upside and his All-Defensive Second Team selection would stop him from falling much further on the list. The comp that jumps out is Patrick Beverley. Beverley has a pair of All-Defensive selections, was the emotional leader for an overachieving team and appears to be an unquestioned starter. Murray doesn't have quite the resume but he's a lot younger and his potential is definitely higher.
Going back to the summer of 2018 to find a few more comparable signings, you get perhaps the best comp of all for Murray.
I think Dante Exum provides a floor comp for Murray. Exum has flashed talent but has had his career sidetracked by injuries. Even if the Spurs are concerned about Murray's injury history, Murray's representatives aren't going to accept a contract for less than Exum received.
But the best comp of all is Marcus Smart. Like Murray, he projects as a top-tier defender who plays hard and fits within a team concept. Both are iffy shooters (Smart even iffier, although he shoots more often) who bring intangibles to the table. On top of that, they are similar ages.
Two summers ago, Smart got $52 million over four years. Add in inflation, factor in Murray's torn ACL, factor in Murray's superior offensive upside and I believe it's safe to estimate a fair market value for Murray's contract extension to be somewhere in the neighborhood of $50-60 million over four years.
Motivation for the Dejounte Murray Contract Extension
Both sides should be motivated to get the contract extension signed, sealed and delivered. For the Spurs, the obvious motivation would be to save money in the long run. If Murray bursts onto the scene and proves himself to be a full-time starter, a defensive dynamo and an offensive weapon, it doesn't take too much imagination to believe he could receive a maximum contract offer next summer.
A handful of teams can open up the necessary cap room to sign a max free agent. Given the weak free agency class, Murray could conceivably leapfrog to near the top of the list with a strong season. 
To build a championship contender these days, you need players who provide max level production signed to team-friendly deals. For a recent example, just look at Stephen Curry. When he signed a four-year, $44 million contract extension back in 2012, it was regarded as a risky move by the Golden State Warriors due to Curry's injury history. Instead, that move by the Warriors is the moment that sparked a dynasty by giving Golden State the financial flexibility to fortify their roster in the forthcoming years.
For a hometown example, just consider how lucky the Spurs were to never give a max contract to either Tony Parker or Manu Ginobili. Both Parker and Ginobili provided max level production but due to the timing of when they became free agents, the Spurs were able to get away with paying them less.
Not to compare Murray to Curry, Parker or Ginobili, but if they're confident in his abilities and believe he'll bounce back from his torn ACL, right now is the time to sign him instead of potentially paying him max dollars this upcoming summer.
Murray should also be motivated for his own reasons. Primarily, he will want to protect himself from the catastrophic scenario that he hurts his knee again. If that happens, he'd be lucky to receive any interest on the free agent market.
Additionally, Murray will be a restricted free agent, which always reduces interest. Plus, if enough teams decide to punt on the free agent class due to the underwhelming names at the top, he could be met with a dry market where no teams want to spend money or have already allocated money elsewhere.
What the Spurs Should Do Next
I'm still against the idea of giving DeMar DeRozan a lucrative contract extension. A max extension would be a colossal mistake, in my estimation. The fact that he was 3-for-3 on three-pointers last night doesn't change my opinion.
The other player the Spurs could extend is Jakob Poeltl. Given that he represents the type of player who is no longer commanding big bucks on the open market (traditional centers who can't shoot), the Spurs should only extend him if he agrees to a reasonable deal.
Like I previously wrote, Poeltl's market value is around $5 million, so I would be okay with the Spurs extending him on a contract that pays somewhere around that amount. After watching him in preseason, I'd say a contract starting at $6-7 million would be fine. If he doesn't want to sign that, there's little risk in waiting until next summer because his value isn't going up much unless something extremely unforeseen happens.
Murray, on the other hand, looks like an opportunity for the Spurs to buy low on a promising player. If they believe he'll hold up physically and believe what we witnessed in preseason is for real, right now is the time to lock him up. A contract extension worth $50-60 million over four seasons makes a lot of sense to both sides. Make it happen.