Grades: Spurs vs. Grizzlies – Summer League Game #2
The San Antonio Spurs improved to 2-0 in summer league action with a 99-84 victory over the Memphis Grizzlies. The Spurs led 59-44 at the half and had little trouble strolling to their second win in as many games, even though Lonnie Walker IV, Quinndary Weatherspoon and Drew Eubanks were resting on the sidelines.
San Antonio was led by Keldon Johnson's 29 points in 25 minutes. The 29th pick in the 2019 NBA Draft also chipped in with seven rebounds, three steals and a block. Luka Samanic, the 19th overall pick, had nine points, four rebounds and three assists in 24 minutes.
Spurs Grades For Second Summer League Game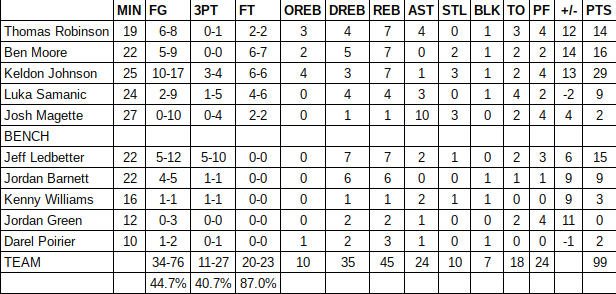 Keldon Johnson
In his summer league debut, Keldon Johnson didn't do much of anything. He hardly had any touches on the offensive end or any impact plays on the defensive end. In the second game, Johnson was a totally different animal. Offensively, he got opportunities and took full advantage. While he's not an explosive athlete, I was impressed by his savviness with the ball. He was adept at finding angles to get off his shot off and has advanced instincts in terms of drawing fouls. He's a bit slow to release his three-point jumper but he keeps it high, which should help him survive against NBA athletes. Oh, and Johnson's bomb from beyond midcourt was impressive (but not his most impressive halfcourt shot of the last year).

Defensively, he was picking up his man about ten feet outside of the three-point arc and he was successfully wreaking havoc. While he doesn't appear to have the quickest of feet, he has fast reflexes, keeps his hands up to avoid fouls and he has enough strength to fight through screens with ease. This amount of defensive intensity at his age (19) is great to see. All in all, while Johnson still obviously has a lot to work do, this was a fantastic glimpse at the potential he brings to the table. After watching him tonight, it's not difficult to imagine him having a successful career as a 3-and-D hustle player.
Grade: A
Luka Samanic
It was more of the same for Luka Samanic: moments where his tools drop your jaw and moments where you wonder if he understands the basics of the game. The good: He drained his first three-point attempt and it appears as if the NBA three-point line is well within his range, as he doesn't have to strain much when he lets it fly. He had a couple of outstanding passes. After two summer league games, I think it's safe to assume that his court-vision has a chance to be above league average for a bigman as he develops. His movements and athleticism impressed, especially when he got out running the fast break.

The bad: Samanic's shoot-pass decision-making needs a lot of work. He doesn't appear to have natural instincts when it comes to making that decision. A few times, he turned down wide open looks. Other times, he forced up bad shots. His ball-handling is a liability right now, particularly when he's in close quarters against a strong defender. Samanic was at small-ball center for minutes at a time and the results weren't promising. He just doesn't have the strength right now to hold his ground in the paint and rebound his area. Overall, I still like what I see. He has the tools needed to be a valuable power forward in this league. But, as was obvious when the Spurs drafted him, he needs work to put it all together.
Grade: C-
Ben Moore
While Ben Moore's numbers look pretty, I wasn't too impressed when looking at what he did through an NBA lens. He can use his muscle to score but when his athleticism is challenged, he comes up short. Moore is also not a shooter, which is tragic for a prospect of his ilk with how the league is going. He shoots his free throws one-handed and turns down three-pointers even if he has feet upon feet of open airspace. Moore is a super intelligent defender, has a good feel for the game, is stronger than he looks and is a team player … but I just don't see him as a legitimate NBA prospect. He's too short to be a four, too unathletic to be a three and can't shoot well enough to theoretically compensate elsewhere.
Grade: B
Thomas Robinson
In an effort to fit in to the modern NBA, Thomas Robinson has attempted to expand his game. He's facing up more, looking to shoot jumpers and trying to show off perimeter skills. While he had a few really nice passes against the Grizzlies, it's a long-shot that he's able to complete the transformation. As it is, Robinson's ceiling is a third center. Considering the Spurs may be in the market for just that depending on how the rest of the summer plays out, he's at least worth paying attention to during these games.
Grade: B+
Josh Magette
Although he missed all ten of his field goal attempts, Josh Magette did save face by totaling ten assists in 27 minutes. I like how he gets the team into their sets and the decisions he makes off of pick-and-rolls. About 25 years ago, he would have probably made it in a John Crotty role. But with how small he is and how underwhelming of an athlete he is, I can't imagine he's ever more than a 13-15th man who hangs on as an emergency point guard.
Grade: C+
Jeff Ledbetter
When Jeff Ledbetter entered the game in the first quarter, San Antonio's offense was stuck in mud. Less than five minutes later, Ledbetter had dropped four three-pointers and almost single-handedly got the Spurs rolling. The 31-year-old is not a realistic NBA prospect but he's valuable in this setting. He's a crafty, hard-nosed defender who has a PhD in the Spurs offensive system. His decision-making got worse as the game progressed but he was still supplying energy throughout.
Grade: A-
Jordan Barnett
Of the players who didn't play in the first game of summer league, Jordan Barnett was the one who really stood out. His exceptionally athleticism was too much for Memphis to handle, particularly when he got out and ran. I was also impressed with his relentlessness and IQ on defense. Barnett, a 6-foot-7 23-year-old, is one to keep an eye on the rest of summer league. He has NBA athleticism; let's see if there is anything else he offers that would make him a worthwhile training camp invite.
Grade: B+
Kenny Williams
He hit his lone attempts (a three-pointer) and was extremely active on defense, however Kenny Williams wasn't involved enough in his 16 minutes to get much of a read on him. His defense was impressive, so he's another player to follow as summer league goes along.
Grade: B
Jordan Green
The Spurs had 6-foot-5 Jordan Green playing point guard off the bench … and the results weren't too pretty. His ball-handling is suspect and he doesn't appear to be a smooth athlete. Danny Green's cousin is looking at another season as a reserve in Austin.
Grade: C–
Darel Poirier
Perhaps the play of the game, Darel Poirier almost broke both ankles attached to his poor defender on his way to a dunk. While he only played ten minutes, Poirier's athleticism and explosion stood out for a 6-foot-11 player. We'll have to see if he can build on the tempting morsels he offered tonight.
Grade: B
Blake Ahearn
It was clear that both Johnson and Samanic were winded throughout this back-to-back contest. Blake Ahearn did good work subbing them out enough to keep them energized but not so much that they couldn't find a rhythm. All in all, the Spurs played well despite being without three key players in Walker, Weatherspoon and Eubanks. Give Ahearn partial credit for that.
Grade: B+