Grades: San Antonio Spurs vs. Phoenix Suns – Game #50
Well, it turned out to be another good loss by the San Antonio Spurs. The Spurs trailed the Phoenix Suns for the whole game until a late charge in the fourth quarter forced overtime. Unfortunately, in the extra session, the Suns got hot and blasted their way to a 128-118 victory.
A three-pointer by Chris Paul gave the Suns a nine-point lead with 4:50 remaining in regulation. However, that's when the good guys got it rolling. The Spurs went on a 10-2 run in less than two minutes to get right back into it.
With less than a minute remaining and San Antonio down by three points, Keldon Johnson finished an old-fashioned three-point play to tie the game and ultimately send it into overtime.
In OT, Mikal Bridges scored eight points and the Spurs couldn't keep up. But, all in all, it was a really good outing for the Silver and Black. The Spurs got impressive individual performances and they exhibited determination during their fourth quarter comeback. Good stuff.
Spurs vs. Suns – Final Grades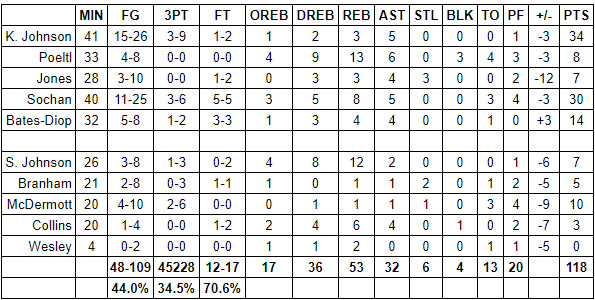 Keldon Johnson
I thought Johnson was great. He kept his intensity high, which has been an issue lately. Johnson came up big in big situations. He finished with 34 points on 15-of-26 shooting. Johnson also had five assists and finished without a turnover. He drove the ball with heart and hit a handful of very difficult shots. Defensively, he kept his head in it and made some smart switches. This has to have been Johnson's best game in weeks.
Grade: A+
Jeremy Sochan
Wow. Sochan decided to put the team on his shoulders — and he did an awfully good job. The rookie finished with a career-high 30 points along with eight rebounds and five assists. What's amazing is he actually missed a lot of two-pointers he usually makes … so Sochan could have easily scored closer to 40. Against the Suns, he made up for his two-point misses by hitting half of his six three-pointers and all five of his free throws. I loved the way Sochan was hunting mismatches and taking advantage over and over again. He's a big, athletic dude and he knows how to utilize his physical advantages to make plays for himself and others. As he grows more comfortable with his jumper, Sochan is going to get increasingly dangerous with the ball in his hands. Oh, and yeah, I also thought his defense was really good. Sochan had some mistakes on that end but he competed relentlessly.
Grade: A+
Jakob Poeltl
Poeltl hit a few lulls and got in the way on offense at times but his production was inarguably impressive. The Austrian center had eight points, 13 rebounds, six assists and three blocks in 33 minutes. Poeltl gave some of it back with four turnovers and periods of mediocre defense — but, net-net, he was definitely a force for good on this night.
Grade: B+
Tre Jones
Jones' offensive struggles continued another night. In his last five games, he's averaging 8.2 points on 34.6% shooting from the field. Jones had no confidence in his three-point shot. In fact, this was the first time since mid-December that he didn't attempt a single long-ball. When Jones isn't shooting, defenses can play off of him and clog his passing lanes — and he becomes a liability on offense. Defensively, Jones was a lot better. He played with grit and toughness on that end from the opening tip.
Grade: C- 
Keita Bates-Diop
Bates-Diop has filled in well as a starter in place of Romeo Langford. When he's vivacious, he can make a lot of positive things happen. Bates-Diop had 14 points, four rebounds and four assists in 32 minutes, the most minutes he's played in six weeks. His touch around the basket was deft and he's now 4-for-9 from three-point land as a starter in the last three games. Bates-Diop's defense was nothing special but it was better than usual.
Grade: B+
Stanley Johnson
Johnson stepped into a bigger role due to Josh Richardson's absence. When the going got tough, Johnson was in the game. I thought he did well. Johnson was second-guessing himself quite a bit, which was negatively impacting him on both ends. But when he just played and didn't think too much, he was making things happen. His toughness and hussle led directly to 12 rebounds. It's also important to note that Johnson didn't have a turnover. In his previous three games, he had 11 turnovers in a total of 48 minutes.
Grade: B+
Malaki Branham
This felt like the type of game Branham had earlier in his rookie season. He was out of sorts on offense and played a timid brand of basketball. Branham got some good looks but rushed his attempts. Defensively, he was sub par — even for him. His switches were late and he had trouble staying in front of players.
Grade: C-
Doug McDermott
I didn't like McDermott's shot-selection. He tried to force the issue too much and it routinely backfired. Not only did he need ten shots to score ten points, he turned the ball over three times. McDermott's bad defense was made even worse due to his four fouls.
Grade: C-
Zach Collins
Collins had a quiet evening in terms of scoring points but he did work in other areas. He had six rebounds, four assists and a block in 20 minutes. While his production wasn't as obvious as it's been in recent weeks, Collins played with tenacity and was clearly the best passer off the bench. He also finished without a turnover and only two personal fouls.
Grade: B+
Blake Wesley
Wesley got four minutes of playing time due to the injuries. While he didn't play much, he played long enough to make a handful of mistakes. That said, Wesley kept playing with confidence and speed even when he was mounting up the miscues, which is good to see.
Grade: Inc.
Pop
I loved how much responsibility Pop gave to Sochan. Jones was struggling so Pop just cut out the middleman and allowed Sochan to run the show. It wasn't always pretty but it gave a glimpse into the rookie's surprisingly vast potential on offense.
Grade: A