Grades: San Antonio Spurs at Phoenix Suns – Game #79
The San Antonio Spurs couldn't pull off another upset win on Tuesday night against the Phoenix Suns. After shocking the Sacramento Kings in their previous game, the Spurs fell into a deep hole against the Suns early on and never recovered.
That said, San Antonio deserves credit for never giving up. The Spurs trailed 42-25 after one quarter and were down 61-30 midway through the second period. However, the good guys rallied and actually cut it to a single-digit game. Yes, the Suns took their foot off the gas but the Spurs did a great job of continuously applying pressure after their wretched beginning.
Eventually, Phoenix got going enough to gain separation again in the fourth quarter as they strolled to a 115-94 victory. Overall, though, given the circumstances, this was another quality loss by the Spurs.
Spurs at Suns – Final Grades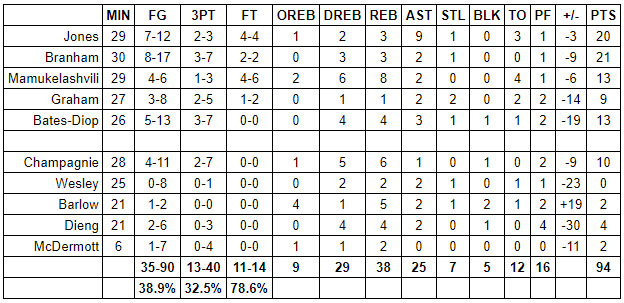 Tre Jones
Jones looked really good again. He looks to be back to 100% after a sore foot had him limping around for about a month. His hesitation moves were great and he commanded the ship with expertise. Even Jones' jumpers were hitting net tonight. Defensively, I wasn't impressed with his effort early on but he got much more energetic as the game progressed.
Grade: A-
Malaki Branham
Branham led the Spurs with 21 points in 30 minutes. He was aggressive while keeping his teammates involved. I liked his shot-selection and he was careful with the ball. Defensively, Branham was reliably in the right spots but his impact was minimal on that end. All in all, the rookie looks like a natural-born scorer who aims to play the game the right way.
Grade: A-
Sandro Mamukelashvili
Mamukelashvili was much sloppier than usual. A few of his passes missed the mark by multiple yards. I also thought he was turning down shots too often. Then again, it's difficult to be too angry with him because he posted an efficient 13 points in 29 minutes. Mamukelashvili was really strong on the boards and hustled just as much as he usually does.
Grade: B
Devonte' Graham
Graham was a little better than he was against the Kings but was still the weak link in the starting five. He wasn't doing much playmaking and he was usually a liability on defense. Unfortunately, Graham wasn't scoring enough to camouflage those warts. In the fourth quarter, the veteran left the game after an apparent knee injury. Let's hope Graham is okay going forward.
Grade: C-
Keita Bates-Diop
The good: Bates-Diop played some really good defense, particularly against Kevin Durant. He took the challenge to heart and utilized his ungodly length to contest Durant's shots at elevations few humans can reach. Offensively, his three-point stroke continues to look better than ever. The bad: Bates-Diop spent a lot of the night stumbling and fumbling on the offensive end. His processing speed was much slower than usual and that was bogging down the team's offensive attack.
Grade: B-
Julian Champagnie
After scoring a career-high 26 points against the Kings, Champagnie didn't waste any time popping the cork against the Suns. By the end of the first quarter, he had ten points on perfect 4-for-4 shooting from the field and appeared to be poised for another big performance. Sadly, the bottle was empty by the end of the first period and he didn't score again after that. Champagnie did play some good defense, particularly help-wise. But, yeah, he missed his final seven shots from the field so that aspect was definitely less than stellar.
Grade: B-
Blake Wesley
Ouch. Wesley had another strugglefest on the offensive end. He got blocked I don't remember how many times — but it was a lot. The times he didn't get blocked, Wesley's touch looked about as precise as peeling an orange with a sledgehammer. To make matters worse, he was holding the ball too long and missing open teammates. Wesley has a lot of work to do in the summer.
Grade: D-
Dominick Barlow
Barlow's numbers weren't nearly as sexy as they were against the Kings but this was without question another successful outing for the 19-year-old. Defensively, he's using his elite physical tools to his advantage on a majority of the possessions. He's quick, long and has naturally good timing. Barlow also reads angles very well for his age and experience level. On offense, Barlow helped out by crashing the glass, setting heady screens and making the right passes. Like Graham, Barlow was forced to leave the game early after taking a shot to the face. Hopefully we get to see more of the rookie this season because he's playing extremely well right now.
Grade: A-
Gorgui Dieng
Eh, Dieng was okay-ish. He had some slick passes on offense and wasn't bashful about calling his own number. Defensively, he helped out by being physical and guarding the rim with purpose. Dieng threw his body around whenever it was necessary, which set a positive example for everyone else.
Grade: B-
Doug McDermott
Like Graham and Barlow, McDermott exited the affair. It looked like he turned his ankle after blowing an easy layup. Prior to leaving the court, McDermott had a very active run. In six minutes, he took seven shots and was involved a lot on the defensive end. Regrettably, he missed six of those shots and the Suns had a lot of success on offense going right at him.
Grade: C
Pop
Pop was without Johnson, Vassell, Sochan, Collins and Langford. During the game, he lost McDermott, Graham and Barlow. Despite the lack of talent remaining on two feet and the grand canyon the team stumbled into early on, Pop had his guys playing hard and the youngsters got plenty of valuable minutes going against Phoenix's talented squad.
Grade: B+