Grades: San Antonio Spurs at Oklahoma City Thunder – Game #34
The San Antonio Spurs played the Oklahoma City Thunder close for three quarters. Heading into the final period, the Spurs only trailed by two points. But in the fourth quarter, the Thunder got rolling and ended up easily storming away with a 130-114 victory.
The Spurs (11-23) were playing on the second night of a back-to-back, while the Thunder (15-19) had three full days of rest. Given those circumstances, Oklahoma City running away from San Antonio in the fourth quarter wasn't exactly a surprise.
Final Grades – Spurs at Thunder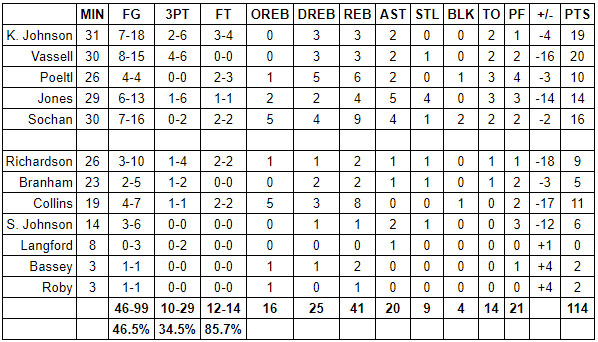 Keldon Johnson
Johnson played hard, at least on the offensive end. He attacked the basket relentlessly and mostly took quality shots. Unfortunately, his efficiency was substandard. A convincing argument could be made that he deserved more trips to the line, however. Defensively, he was mostly going through the motion.
Grade: C
Devin Vassell
Vassell hit 4-of-6 from three-point range on his way to 20 points in 30 minutes. While Vassell was more efficient than Johnson, that was solely due to his three-point shooting. His two-point shooting and playmaking were nothing to write home about. Vassell was decent on defense but was hardly a difference-maker. (In the fourth, Vassell limped off the court after finishing at the rim. Let's hope he's okay going forward.)
Grade: B-
Jakob Poeltl
The good: Poeltl was 4-for-4 from the field and has now hit his last 13 shots from the field over the course of three games. He rebounded his area well and authored a few quality passes. The bad: Poeltl had three turnovers and four fouls in 26 minutes. His perimeter defense was lacking for much of the evening.
Grade: C
Tre Jones
The good: I like that Jones continues to take three-pointers. Against the Thunder, he finished really well in the paint. His hustle on defense was commendable and he was passing well in transition situations. The bad: Jones hit only one of his six three-point attempts. His halfcourt playmaking was very limited and he was sloppier with the ball than usual.
Grade: C
Jeremy Sochan
Sochan had his hands in the middle of the action. He ended up with 16 points on 7-of-16 shooting and hit both of his one-handed free throws. Sochan's passing continues to impress and he was the team's most productive defender on this night. Both on the perimeter and in the paint, he guarded with gusto. He made his share of mistakes but it was never for a lack of trying.
Grade: B+
Josh Richardson
Richardson tried to shoulder more of the offensive load than usual but was ineffective. He didn't shoot it well and his playmaking attempts typically led nowhere. I also wasn't impressed with his defense. Specifically, he wasn't staying in front of his man and he wasn't boxing out.
Grade: C-
Malaki Branham
Branham came into this game on fire over his previous five outings but was held in check against OKC. I thought he handled his point guard duties reasonably well, though there were times when his ball-handling was iffy. As is usually the case with Branham, it would have been great if he called his own number even more. Defensively, he was moving his feet better than usual but he still has a lot of room for improvement on this level.
Grade: C
Zach Collins
Collins seems to be finding a groove. He was a monster on the glass and impacted the offense on the inside and out. His defense was solid and he only committed two fouls. When Collins can play at this level, he's a really good complement to Poeltl.
Grade: A-
Stanley Johnson
Johnson continues to play well enough to keep a spot in the rotation. His aggressive and pestering defense is a breath of fresh air on a team that can sometimes forget to compete on that end. Offensively, he doesn't try to do too much and he passes with a surprising amount of wisdom.
Grade: B+
Romeo Langford
Langford got some extra run but didn't move the needle. It looks like he'll remain outside of the regular rotation unless there are injury or foul issues.
Grade: C
Pop/Brett Brown
Pop got thrown out of the game for arguing about the disparity of fouls. Considering the Thunder had 31 free throw attempts and the Spurs had 14 free throw attempts, Pop probably had a point. When Brown took over, the expert tanker made sure to improve San Antonio's lottery odds.
Grade: B-