Grades: San Antonio Spurs vs. Oklahoma City Thunder – Game #67
The San Antonio Spurs, coming off of an impressive victory over the Denver Nuggets, tried to win a second consecutive game versus the Oklahoma City Thunder on Sunday night. Instead, the Thunder cruised to a relatively easy 102-90 victory.
The Spurs fell into a double-digit lead early and struggled to make up much ground in the first half. In the third quarter, San Antonio found an offensive rhythm early in the period and tied the game. Unfortunately, Oklahoma City responded with a 10-0 run and the Spurs never recovered.
Offense was the main issue on Sunday night. The Spurs shot poorly from the perimeter, turned it over a lot and lacked playmaking — which turned out to be a recipe for an ugly loss.
The Spurs were without Keldon Johnson, Jeremy Sochan and Tre Jones, so it's not a complete shock that the offense struggled. Then again, the Thunder were without Shai Gilgeous-Alexander, so they weren't exactly a full strength either.
Spurs vs. Thunder – Final Grades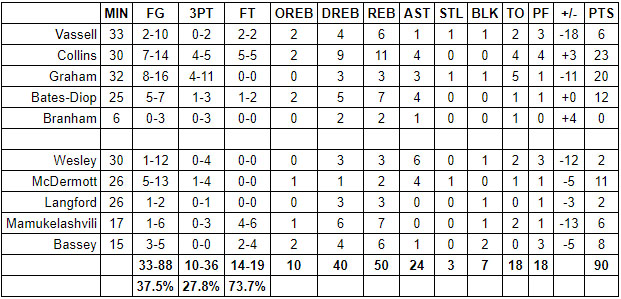 Devin Vassell
Without Johnson, Vassell became the team's de facto go-to scorer. That didn't go well, to put it mildly. Vassell couldn't find shots as part of the offense and was inefficient when he took matters into his own hands. Six points and one assist in 33 minutes? Yeah, no, that wasn't the type of performance the Spurs needed to be competitive. That said, it wasn't all Vassell's fault. The Spurs had no one who could consistently make plays off the dribble and the Thunder employ stout perimeter defenders who were able to lock onto Vassell and not worry about anything else.
Grade: D+ 
Zach Collins
Collins was a bright spot for San Antonio on what was otherwise a gloomy evening. The starting center dropped 4-of-5 three-pointers, hit all five of his free throws and also passed the ball well. He's looking more and more comfortable on the offense end as his role expands. Defensively, Collins was strong on the boards and was typically timely on rotations. If he didn't have a few questionable whistles go against him, he could have had an even better performance. Other than his four turnovers, Collins did what the Spurs needed him to do to succeed.
Grade: A-
Devonte' Graham
Like Collins, Graham did a whole lot well — other than racking up too many turnovers (5). He hit 4-of-11 three-pointers, 4-of-5 two-pointers, pushed the pace well and authored a few heady passes. His 20 points kept the Spurs within striking distance and kept the team's offense from totally imploding. But if Graham is going to prove himself to be a valuable player, he has some things to clean up. His decision-making was iffy on offense at times and his rotations on defense were too often a step slow.
Grade: B+
Keita Bates-Diop
Bates-Diop was back in the starting lineup and he had another productive affair. When he put his mind to it, he was an effective scorer on offense who was also passing it much better than usual. Bates-Diop's only issue on that end was that his foot wasn't always pedal to the metal. Defensively, he was decent at times but that lack of consistent juice also negatively impacted him on that end as well.
Grade: B
Malaki Branham
Branham's shot mechanics looked stiff and there wasn't much zip on his passes. He eventually left the game for good with a shoulder injury. Let's hope the rookie can return ASAP.
Grade: Inc.
Blake Wesley
Yikes. Wesley missed his first 11 shots from the field before tipping the ball in during the closing seconds of garbage time. Many of his shots weren't even in the correct zip code. Despite his wayward marksmanship, I liked that Wesley kept competing and remained confident in himself. He finished with a team-high six assists, only turned it over twice and had a couple strong defensive possessions. Hopefully the rookie's forgettable shooting performance turns out to be a fluke and Wesley bounces back in his next outing.
Grade: D+
Doug McDermott
With the offense on life support, McDermott tried to come to the rescue. The results weren't the greatest, as McDermott finished with 11 points on 13 shot attempts. The Spurs rely on him to be a steadying force for the bench unit but that didn't really happen on Sunday night. That said, his passing was better than usual and he was efforting on defense.
Grade: C
Romeo Langford
Langford was back in the lineup and played an active 26 minutes. I liked his hustle on defense and in loose ball situations. His individual defense was also impressive at times. Unfortunately, he did next to nothing on offense. Two points and zero assists in 26 minutes? That's not exactly what you want from a guard when the team is desperate for offense.
Grade: C-
Sandro Mamukelashvili
Mamukelashvili couldn't carry forward the magic he played with in the fourth quarter against the Nuggets. He hit only 1-of-6 shots from the field against the Thunder and missed all three of his three-pointers. It looked like he was rushing on offense and trying to do too much on defense. As a result, he was hurting the team while he was out there. There were a couple silver linings for Mamukelashvili: He got to the free throw line six times and pulled down seven rebounds in only 17 minutes of action.
Grade: C-
Charles Bassey
Bassey combined with Collins to provide the Spurs with strong play out of their center position. Bassey lumbered at times but still was able to finish with eight points, six rebounds and two blocks in 15 minutes. Offensively, his touch was soft and he made the right passes. Defensively, he took care of the boards and was always looming around the paint looking to block a misguided Thunder shot attempt.
Grade: B+
Pop
San Antonio's offensive attack lacked rhyme or reason for much of the evening, which made life difficult for the players — particularly the younger players. Pop could have helped matters more than he did, as his play-calling rarely put players in positions to succeed. Even if you are pro-tanking, you don't want to see the Spurs struggle as much as they did on Sunday night. As far as the rotation was concerned, I mostly agreed with what Pop did. Giving a shooter like Champagnie a chance could have helped — or he could have just added to the number of young players struggling.
Grade: C-