Grades: San Antonio Spurs at Minnesota Timberwolves – Game #5
The San Antonio Spurs won't finish the season 81-1. After winning three straight games, the Spurs were defeated by the Minnesota Timberwolves by a final score of 134-122. Both teams are now 3-2 on the season.
A motivated Timberwolves squad, fresh off of a thorough loss to the Spurs on Monday night, hit 65% from the field and knocked down 20-of-34 three-point attempts. Despite that amount of aerial shock and awe, the Spurs were able to make it a ballgame. Trailing by 17 points early in the third quarter, San Antonio narrowed the gap to as close as five points and remained within striking distance for much of the fourth period.
Making matters more difficult for San Antonio were the absences of two key players: Devin Vassell and Joshua Primo. Vassell missed the game with knee soreness, while Primo was out due to a spasming glute. Considering that Vassell had 23 points, nine rebounds and seven assists last game against the Timberwolves, beating Minnesota again without him was asking a whole lot.
Overall, Spurs fans have to be thrilled with their team's effort. Sure, the defense could have been a lot better but the good guys showed a lot of grit, determination and togetherness.
Spurs at Timberwolves – Final Grades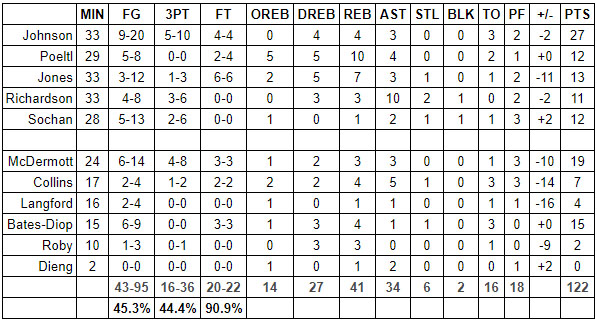 Keldon Johnson
After a quiet first half, Johnson exploded in the final two quarters to help give the Spurs a fighting chance. In the second half, he finished with 22 points on 7-for-12 shooting from the field and 4-for-8 shooting from three-point territory. While it wasn't Johnson's cleanest game of the season, his shooting from the outside and his fearlessness going to the rim stood out as San Antonio's most potent offensive weapon. Defensively, he had a few positive moments but he was mostly decaffeinated on that end.
Grade: B+
Jakob Poeltl
Other than one aspect, Poeltl was really good once again. Unfortunately, he uncharacteristically fell asleep on defense too often — especially when the coaches went to zone or trapping sets. The rest of Poeltl's outing, though, was solid. He was productive on offense, aggressive on the boards and (when he was awake) disruptive on defense.
Grade: B+
Tre Jones
Jones never found a rhythm tonight against the Timberwolves. His shot-selection was highly questionable throughout and the timing of his passes was inconsistent. Jones did a great job making plays last game against Minnesota but that attribute was missing in action tonight. Defensively, he was intense but his lack of size created mismatches that the Timberwolves exploited continuously.
Grade: C
Josh Richardson
In the starting lineup in place of Vassell, Richardson did a lot of good. He took on a substantial amount of the playmaking responsibilities. Specifically, when Jones sat, it was usually up to Richardson to guide the offense. His passing was really good and he continues to shoot the ball well. Defensively, Richardson could have been a lot better; his rotations were too often a step slow.
Grade: B+
Jeremy Sochan
Sochan got off to another fast start. He had eight points in the game's first three minutes. During that stretch he hit two three-pointers — the first two threes of the 19-year-old rookie's career. Unfortunately, he missed his final four attempts from three-point land despite the Timberwolves not showing him much respect outside of the paint. That said, he was able to make waves on the offensive end via ball-handling, passing and cutting. Defensively, Sochan exhibited his nearly limitless potential. His ability to defend guards out on the perimeter is even better than advertised. Add the fact that he has the strength to bang down low and the sky's the limit for Sochan on D.
Grade: B+
Doug McDermott
McDermott had issues on the defensive end but his offense was so potent that he was a weapon that richly deserved his 24 minutes. From quick catch-and-shoot threes to difficult on-the-move finishes at the rim, McDermott was a handful for the Timberwolves. If he didn't miss a few chippies, he would have really been cooking with gas on that end.
Grade: B+
Zach Collins
Collins was okay-ish. Against the jumbo frontline of the Timberwolves that typically features Rudy Gobert and Karl-Anthony Towns, Collins' lack of bulk is an issue. A center who routinely struggles to hold his ground is problematic — so, it goes without saying, he needs to improve in this area. Offensively, Collins was better. He was sloppy at times but his passing and movement were typically beneficial. If he can continue to knock down three-pointers, that would give him an opportunity to carve out a lucrative niche in the league.
Grade: B-
Romeo Langford
With Vassell and Primo out, Langford was given playing time to shine. I thought he did reasonably well. Defensively, he showed flashes of immense ability. He's a fluid athlete with impressive anticipatory skills. He also wasn't bashful about sticking his nose into the middle of the action. Offensively, he's still too timid for his own good but there were hints that his fluidity could make him an asset on that end as well. He played point guard tonight for a number of possessions and didn't look like a fish out of water, which is more impressive than it sounds.
Grade: B
Keita Bates-Diop
Bates-Diop had a couple early miscues on both ends but eventually settled in and had a highly productive evening. Utilizing his ungodly length and effortless coordination, he was able to chip in 15 points in 15 minutes. When the game turned into a fast breaking sprint, Bates-Diop was very difficult for Minnesota to deal with in transition.
Grade: B+
Isaiah Roby
Roby made a couple mistakes and then lost minutes to Bates-Diop. Considering Bates-Diop's production, it's difficult to second-guess the coaches' decision.
Grade: C+
Gorgui Dieng
Dieng had a couple of fourth quarter minutes and had a few heady decisions on the offensive end.
Grade: Inc.
Pop
Given the circumstances, Pop should be proud of his team. His coaching should also be applauded. I didn't have an issue with the rotation. I liked that he went back to Sochan and didn't take him out when his jumper went cold. With help from Richardson and Langford, Pop did well to hide the fact that Jones was the team's only point guard.
Grade: A-