Grades: San Antonio Spurs vs. Minnesota Timberwolves – Game #81
The San Antonio Spurs dropped their final home game of the season on Saturday by a final score of 151-131. The Minnesota Timberwolves were on fire offensively and the Spurs could do nothing to slow them down.
Playing in Austin at the Moody Center, the Spurs and Timberwolves were tied at the end of the first quarter, 35-35. Unfortunately, in the middle two periods, Minnesota outscored the Silver and Black 84-56 to blow the game wide open.
Offensively, the Spurs played well. They shared the ball, limited their mistakes and shot it straight. But, on the other end of the court, the Timberwolves were on another level. Minnesota hit 24-of-43 three-pointers and had 42 assists and only seven turnovers. Yes, the Spurs were playing poor defense — but, to compound the many issues, the Timberwolves were hitting everything. 
Spurs vs. Timberwolves – Final Grades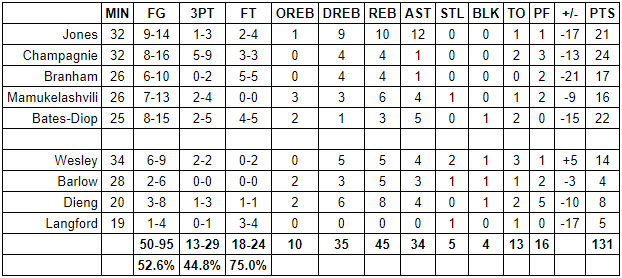 Tre Jones
Jones stuffed the statsheet to record his second triple-double of his career and his second in a four-game stretch. Offensively, he was really, really good. He poured in 21 points on efficient shooting numbers and handed out 12 assists while turning it over once. Jones did a great job of pushing the pace and finding open shots for himself or a teammate. Defensively, it wasn't as exciting of a story for San Antonio's starting point guard. Jones wasn't strong at the point of attack and his rotations were slow. That said, he helped out by rebounding and chasing down loose balls. Overall, this has been an excellent end to the season for Jones.
Grade: A
Julian Champagnie
The Spurs have found something in Champagnie. (If he's willing, it's time to tear up his two-way contract and sign him to a real contract [and waive Gorgui Dieng again to make room].) He has now scored at least 24 points in three out of his last four games. Sure, Champagnie won't always shoot three-pointers as well as he has recently but he's at the very least an intriguing prospect that the Spurs should keep around. He's tall, has a high release point, gets his shot off quickly, naturally moves to open spaces and plays a smart brand of basketball. He's not the most athletic guy but he understands the game and can shoot it. And, really, he's actually more athletic and coordinated than advertised.
Grade: A
Malaki Branham
Branham was solid on the offensive game. He got to his spots, wasn't rushed and totaled 17 points in 26 minutes. The rookie continues to look like a pure scorer. If his three-point shooting comes around and he keeps growing as a defender, Branham is going to be in the NBA for a long time.
Grade: A-
Sandro Mamukelashvili
Mamukelashvili is another success story. The Spurs picked him up off of waivers and he looks like a legitimate piece to the puzzle going forward. A big man who can shoot it, rebound it, handle it and pass it? Yeah, that's a player who needs to be kept around for at least another season. Mamukelashvili also plays with an undying motor, which helps make up for the fact that he's not particularly long or bouncy.
Grade: A-
Keita Bates-Diop
Bates-Diop had a slow start to the season but his performance against the Timberwolves on Saturday is the most recent example of how well he has been playing to end the 2022-23 campaign. His three-point stroke looks better than ever, he's super coordinated attacking the rim and is no longer frustratingly passive. Bates-Diop will still make more than his share of mistakes on the defensive end and isn't the most natural of passers but he has erased any doubts regarding whether he's an NBA player going forward.
Grade: A-
Blake Wesley
It was fantastic to see Wesley have a highly successful outing prior to the end of the regular season. This was without question one of his best showings of the season. The Spurs looked so much better when Wesley was on the court due to his defensive pressure and the speed he added to the offensive attack. (In fact, the Spurs were +5 in the 34 minutes he was on the court and -25 in the 14 minutes he was on the bench.) Wesley got more elevation on his jumper than usual and he had consistent rotation on his shots, which isn't something I've seen from him. Hopefully that's a sign that his touch is coming along. Beyond the hustling on defense and the uncharacteristic efficient scoring, the rookie also passed it well and looked good as a playmaker.
Grade: A
Dominick Barlow
Barlow was inconsistent on the offensive end. He hesitated at times and sometimes got in the way. Defensively, though, he was one of the few bright spots. He ran back in transition, played passing lanes and protected the rim from above. Barlow needs to get stronger but it certainly looks like he can develop into a plus defender.
Grade: B-
Gorgui Dieng
Dieng had a loud 20 minutes. He seemed to be in the middle of the action on each and every possession. From hard fouls to brainy passes and everything in between, Dieng was doing it. He finished with a lot of crooked numbers: eight points, eight rebounds, four assists, two turnovers and five fouls. It wasn't the most refined outing — and his movements on defense were painfully slow most of the time — but Dieng's effort was always there.
Grade: B-
Romeo Langford
I didn't see much out of Langford that I liked. His defensive impact, which is usually what he's known for, was minimal. Offensively, Langford looked like a poor passer who doesn't have enough pop in his legs or enough accuracy in his shot to be a useful cog.
Grade: D+ 
Pop
Pop was without Keldon Johnson, Devin Vassell, Jeremy Sochan, Zach Collins, Doug McDermott, Devonte' Graham and others. Since the Timberwolves are still trying to climb as high as they can in the Western Conference playoff picture, it's no surprise that they came away with the win. Given the circumstances, this game couldn't have gone much better. Pop and the Spurs got a good look at a lot of interesting prospects and the players performed with a lot of togetherness on offense. The defense was … well, never mind that, let's focus on the positives.
Grade: A