Grades: San Antonio Spurs vs. Golden State Warriors – Game #43
The number that will be remembered after the San Antonio Spurs and Golden State Warriors played in the Alamodome on Friday night is 68,323. No, that's not how many points the Warriors scored — that's how many fans were in attendance, an NBA record. As far as the actual basketball game was concerned, the Spurs lost by a final count of 144-113.
San Antonio trailed by 14 points at halftime. Three minutes into the third, they cut the deficit to six points, 78-72. However, the Warriors responded with a 15-3 run in the game's next four minutes to basically put a halt to the suspense.
All in all, it was a fun night. The Spurs got to celebrate their 50th season in a unique manner with legends in the stands — and set a record along the way. The Spurs didn't play good basketball but, hey, on this night the game was secondary.
Spurs vs. Warriors – Final Grades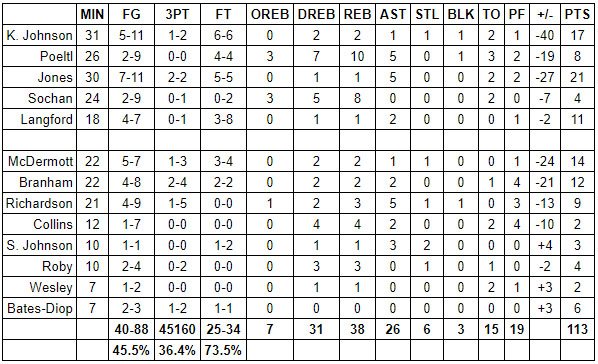 Keldon Johnson
Johnson came out with a lot of energy and tried to put on a show for the 68,323. But Johnson never really found a rhythm and sometimes tried to do too much. That said, he had a couple of highlight plays on defense and was efficient scoring the ball on the other end. His -40 in the plus/minus column sticks out but I'd say that was mostly a result of bad timing, as Johnson wasn't notably worse than anyone else wearing a fiesta uniform.
Grade: B-
Jakob Poeltl
Considering that Poeltl routinely shoots right around 62% from the field each season, it was surprising to see him miss so many shots against the Warriors. Not only was his touch not on point, he seemed to be second-guessing his attempts. Poeltl's passing was good and his rebounding was solid but his defense was substandard. He was slow to close out to the perimeter and he was caught flat-footed too often.
Grade: C-
Tre Jones
Jones didn't have much impact on defense but he continues to shine on the offensive end. He hit both of his three-pointers and connected on 7-of-11 shots overall to score 21 points. In his last five games, he's averaging 20.8 points per game. His speed getting to the basket and his passing in transition are by far his two biggest strengths right now.
Grade: B+
Jeremy Sochan
Sochan struggled offensively. He missed both of his one-handed free throws and lost complete confidence in his outside shot. The Warriors were sagging as far as it's possible to sag and Sochan only timidly glanced at the rim before passing it away. Sochan's defensive effort was also subdued compared to what we witnessed earlier in the season. Rookie wall? Could be. 
Grade: D
Romeo Langford
In the first half of the first quarter, Langford was great. He was playing defense and had nine points on 3-for-3 shooting from the field and 3-for-3 shooting at the free throw line. Unfortunately, the wheels fell off after that. He was just 1-for-4 from the field the rest of the way and closed the game with five consecutive misses from the charity stripe.
Grade: C
Doug McDermott
McDermott led the bench in scoring with 14 points on 5-for-7 shooting from the field. His movement, as everyone has come to expect, was nonstop. Sadly, though, McDermott was a major liability on defense that Golden State looked to exploit early and often. He ended up surrendering more points than he scored.
Grade: C
Malaki Branham
Branham was okay-ish. His decision-making wasn't the best and he was a bit loose with the ball at times but he ended up scoring an efficient 12 points by hitting 4-of-8 from the field, 2-of-4 from three-point range and both of his freebies. Branham's lack of defensive polish was attacked by the Warriors on numerous possessions.
Grade: B-
Josh Richardson
Richardson was once again the best passer on the team but unfortunately he struggled from downtown (1-for-5) and his defensive intensity was minimal. Richardson has played well recently but he couldn't find a way to stem the bleeding against Golden State.
Grade: B
Zach Collins
Like Poeltl, Collins couldn't buy a basket. After Poeltl and Collins combined for 31 points last game against the Grizzlies, they combined for ten points on 3-for-16 from the field versus the Warriors. Ouch. Collins also tallied four fouls and two turnovers in his 12 minutes. He had a couple of slick passes but that was about the extent of his helpfulness on this night.
Grade: D+
Stanley Johnson
Six of Johnson's ten minutes came during garbage time at the end of the game. He had some impressive hustle plays and made smart passes but didn't play enough to impact the game while it was still a competitive affair.
Grade: Inc.
Isaiah Roby
Just like with Stanley Johnson, six of Roby's ten minutes came during garbage time. He got some run as part of the regular rotation but didn't move the needle.
Grade: Inc.
Blake Wesley
Wesley got his first NBA minutes since suffering a torn MCL back on Oct. 30. Against the Warriors, Wesley was super rusty … as one would expect. He hit a midrange jumper with good form — so that's something.
Grade: Inc.
Keita Bates-Diop
Recently, Bates-Diop either starts or is completely out of the rotation. That's an interesting situation he finds himself in.
Alamodome
I'm not sure why they didn't fill in the lower level with more seats — but it worked out. It'd be cool to do it again. Maybe in 2024 as part of a 25th anniversary of the 1999 championship team celebration? That'd be fun.
Grade: A
Pop
Pop's team didn't play well and seemed to be overstimulated by the surroundings. Was that bad coaching or a young team being a young team? Probably more the latter. It didn't help that the Warriors were playing on a higher plane of existence. 
Grade: C