Grades: San Antonio Spurs vs. Washington Wizards – Game #51
The San Antonio Spurs got off to a good start but still ended up losing their sixth consecutive game. The Washington Wizards dominated the final three quarters to beat the Spurs by a final score of 127-106. This victory was the Wizards sixth straight win.
At the end of the first quarter, the Spurs had a 36-30 advantage. Unfortunately, that lead evaporated when Washington scored the first eight points of the second quarter. At halftime, the Wizards were up 63-55. In the second half, the game slipped further and further away from the Spurs.
This was an okay effort by the Silver and Black. They looked really good in the first quarter but couldn't sustain their momentum. The rest of the way, San Antonio struggled to put points on the board and struggled to slow the Wizards. That, obviously, is not a winning formula.
Spurs vs. Wizards – Final Grades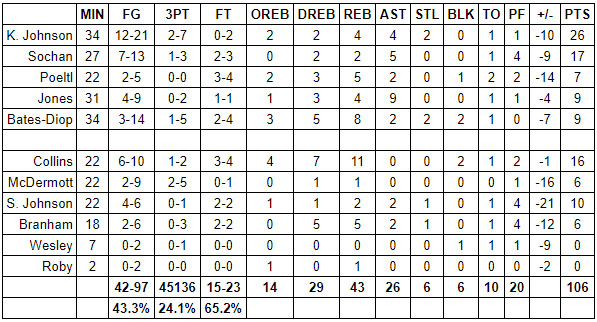 Keldon Johnson
It was another efficient outing for Johnson. While his three-point shot is still missing in action, the rest of his offensive repertoire is hitting on all cylinders right now. He's passing more, he's turning it over less and his bruising drives to the hoop are usually fruitful. If Johnson can add back in three-point marksmanship, he'd really be cooking with gas. Defensively against the Wizards, he was good in the beginning but got worse and worse as the game progressed.
Grade: B+
Jeremy Sochan
Sochan was phenomenal in the first quarter. In fact, it looked like he was ready to build upon the 30 points he had in his last outing. At the end of the first against the Wizards, Sochan had 15 points and two assists, while hitting 6-of-7 from the field. Unfortunately, the rookie didn't do much else in the final three periods. He made good passes, stayed under control and played attentive defense but Sochan had only two more points the rest of the way. All in all, though, the fact that Sochan continues to show flashes of offensive greatness is awesome news for his outlook going forward in his career.
Grade: B+
Jakob Poeltl
Eh, it was an underwhelming performance by Poeltl. He didn't do much on offense. He wasn't running the court hard and his movement in the halfcourt sets was slow. Defensively, Poeltl had a few good moments but we've seen him play much better on that end.
Grade: D+
Tre Jones
It was another single-digit scoring outing for Jones. He has now hit double-figures only once in the team's current six-game losing streak. Jones' jumper continues to look rigid and the touch on his floater comes and goes. Against the Wizards, Jones shot enough to keep Washington honest. That allowed passing lanes to open. Jones finished the game with nine assists and only one turnover. Defensively, he wasn't great but he was better than usual.
Grade: B-
Keita Bates-Diop
The good: Bates-Diop launched early and often from three-point land. He was stout on the boards and active on the defensive end. He really used his supreme length to his advantage this game. The bad: Bates-Diop hit only one of his five three-point attempts. To make matters worse, he was 2-for-9 from two-point range. Bates-Diop's shots were clean, they just didn't go in.
Grade: C+
Zach Collins
Collins was really impressive on Monday night. In only 22 minutes, he poured in 16 points, 11 rebounds and two blocks. Collins was extremely physical, routinely put his body on the line and punished mismatches. His pick-and-roll and pick-and-pop game were both on point. Collins also kept his mistakes to a minimum, as he finished with two fouls and one turnover despite being in the middle of the action.
Grade: A
Doug McDermott
McDermott had a forgettable evening. The Wizards were keying in on him and instead of creating opportunities for others, McDermott forced the issue — and that plan didn't pay off, to say the least. He was only 2-for-9 from the field, finished with zero assists and played substandard defense.
Grade: D
Stanley Johnson
It wasn't the cleanest game for Johnson but his production was decent. He had four fouls, shot a couple awkward shots, missed a few open teammates and needlessly hesitated at times … however, he still produced ten points off the bench on 4-for-6 shooting from the court. Defensively, the impact was minimal but the effort was palpable.
Grade: B-
Malaki Branham
Branham is 0-for-6 on three-point attempts in his last two games. Other than his wayward three-point stroke, he was okay-ish against the Wizards. His self-creation and ball-handling were better than usual. Branham kept his chin up after mistakes, which is important for him. Defensively, he struggled but remained mentally engaged.
Grade: C
Blake Wesley
Wesley could be found flying around the court during his seven minutes of playing time. Other than a backcourt turnover and an airballed three-pointer, he didn't really stand out much at all, though.
Grade: Inc.
Pop
I haven't had many issues with Pop's rotation this season but playing Bates-Diop 34 minutes was highly questionable. I would have also liked to see more minutes for Wesley. Paring down to a nine-man rotation right now doesn't make a whole lot of sense to me.
Grade: C