Grades: San Antonio Spurs at Washington Wizards – Game #74
The San Antonio Spurs kept it close against the Washington Wizards on Friday night for the first three quarters. In the fourth period, the Wizards outscored the Spurs 37-26 to emerge with a 136-124 victory.
The Spurs have started their four-game road trip with three straight losses to drop to 19-55. The final game of the road trip is Sunday against the Boston Celtics.
Against the Wizards, the Spurs actually played well. They had 35 assists and only five turnovers. The primary difference in the game was how well the Wizards shot the ball. Washington hit 15-of-30 three-pointers and they also hit ten more free throws than San Antonio.
Spurs at Wizards – Final Grades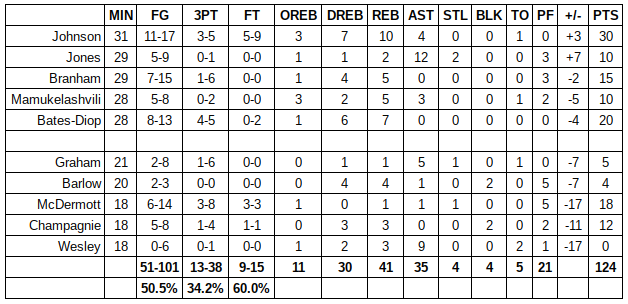 Keldon Johnson
Johnson enjoyed a very efficient evening. He hit 11-of-17 shots from the field, including 3-of-5 from three-point range. He also handed out four assists while limiting his miscues. He picked his spots very well and his drives to the basket were wreaking havoc. The Wizards had to try multiple defensive alignments in order to try to slow Johnson. The only blemish on his offensive output was his four missed free throws. Defensively, Johnson helped out by crashing the boards.
Grade: A
Tre Jones
Jones had a rock solid outing. He set the tone for San Antonio's offensive attacking by handing out 12 assists without turning it over a single time. I liked his playmaking both in transition and in halfcourt settings. Scoring-wise, Jones applied a moderate amount of pressure on the rim but wasn't doing much on the perimeter. Defensively, Jones hustled but had limited impact.
Grade: A-
Malaki Branham
After a few games in which Branham looked like he was struggling with the rookie wall, he showed some life against the Wizards. He was aggressive driving the ball and finished with touch in the midrange and at the rim. Branham's three-pointers still looked flat, though, and his playmaking and defense were substandard. 
Grade: B
Sandro Mamukelashvili
Mamukelashvili played well, particularly in the first quarter. He was vivacious from the opening tip and his energy led directly to some early buckets. For the game, he was 5-for-6 from two point range and passed the ball really well. Defensively, he was boxing out consistently and was physical in the paint. If Mamukelashvili can hit three-pointers, it looks like he could carve out an NBA career.
Grade: B+
Keita Bates-DIop
Offensively, Bates-Diop looked really good. He dropped in four three-pointers and his shooting stroke looks better than ever. He's not hesitating and his usual hitch in his shot is much less prominent than usual. Bates-Diop was also authoritative in the paint offensively. He finished with 20 points in 28 minutes. Defensively, he was a bit more subdued than normal, however he chipped in with six defensive rebounds.
Grade: A
Devonte' Graham
Graham didn't play well on either end. Defensively, he was having a lot of issues. His rotations were slow and his man-to-man defense was feeble. Offensively, Graham wasn't much better. He shot poorly and his shot-selection was less than stellar. The brightest spot of his affair was his passing, as he flashed an impressive amount of court vision.
Grade: C-
Dominick Barlow
Barlow got himself in foul trouble during his 20 minutes of action but otherwise I thought he performed well. Defensively, his movement, tenacity and timing are all admirable traits. If he works on his craft, he has all the tools to be a strong defender. Offensively, Barlow shows glimpses of skill. He can finish with athleticism, shoot jumpers and he's aware enough to reliably make the right pass. Barlow needs to be more productive in his minutes but he looks like a worthwhile two-way prospect.
Grade: B+
Doug McDermott
McDermott had a busy night. He fired 14 shot attempts and had five fouls in 18 minutes. The good: No one will complain about McDermott pumping in 18 points in 18 minutes. He hit a trio of threes and even had a mean dunk in transition. His movement and aggressiveness were all helpful. The bad: McDermott's defense left a lot to be desired. The Wizards attacked him inside and out. McDermott tried to hold his own but ended up racking up fouls instead.
Grade: B
Julian Champagnie
Champagnie looked like a legitimate NBA player on Friday night. He wasn't only hitting open three-pointers, he was making plays on the move and utilizing his athleticism. On defense, he looked more pliable than usual and had two blocks. On offense, he showed flashes of high-end scoring ability. Like Barlow, Champagnie looks like a good prospect for a player on a two-way contract.
Grade: A-
Blake Wesley
Wesley was 0-for-6 against the Wizards and his field goal percentage on the season is now all the way down to 31.5%. He has definite touch issues and that's stopping him from getting the most out of his elite burst and speed. Against the Wizards, Wesley was still able to contribute despite going scoreless in 18 minutes. He did so by dishing out nine assists, mostly by breaking down the defense and then spotting the open man. Defensively, his rotations weren't always reliable but his individual defense was pestering.
Grade: C+
Pop
This was some impressive tanking by Pop. Just glancing at the minutes distribution tells you how little interest he had in actually winning the game. One player with 30-plus minutes? Every player with at least 18 minutes? Yeah, no, Pop wasn't interested in the Spurs accidentally winning this game. And, honestly, there's no way to disagree with that strategy. The Spurs played good basketball, got a good look at prospects and didn't hurt their lottery odds. Win, win and win.
Grade: A