A Closer Look At Zion Williamson's Electrifying Debut Against the Spurs
In what had to be one of the most hyped NBA debuts since LeBron James, Pelicans rookie Zion Williamson put on a show for the fans in New Orleans against the San Antonio Spurs. After a ho-hum first three quarters, Williamson came alive in the fourth quarter, scoring 17 straight points. He ended his night with 22 points and seven rebounds on 8-for-11 shooting — all in just 18 minutes of game time.
To put the Zion hype in perspective, the Pelicans sold 12,000 season tickets –the most they have sold in over a decade. Williamson's jersey sales were more than the rest of his rookie class combined. His jersey and t-shirt sales were also the most of any rookie in NBA history during the first five days after the draft. Considering all the hype, it would be hard to expect Williamson to live up to these lofty expectations. He was coming off a knee surgery from an injury he suffered in preseason. Yet, he managed to give one of the more memorable fourth quarter performances of the past twenty years in his NBA debut against the Spurs.
Give Zion Williamson the Rock and Get Out of the Way
Zion Williamson loves to attack the paint like a wrecking ball. He is adept at using all 285 pounds of his bulky frame to bully his way around the basket. He is elite at using his athleticism for scoring putbacks, as well as looking for buckets in transition. He's also deceptively quick for someone his size. When looking at his shot charts from his final season at Duke, it comes as no surprise why he prefers to play under the basket.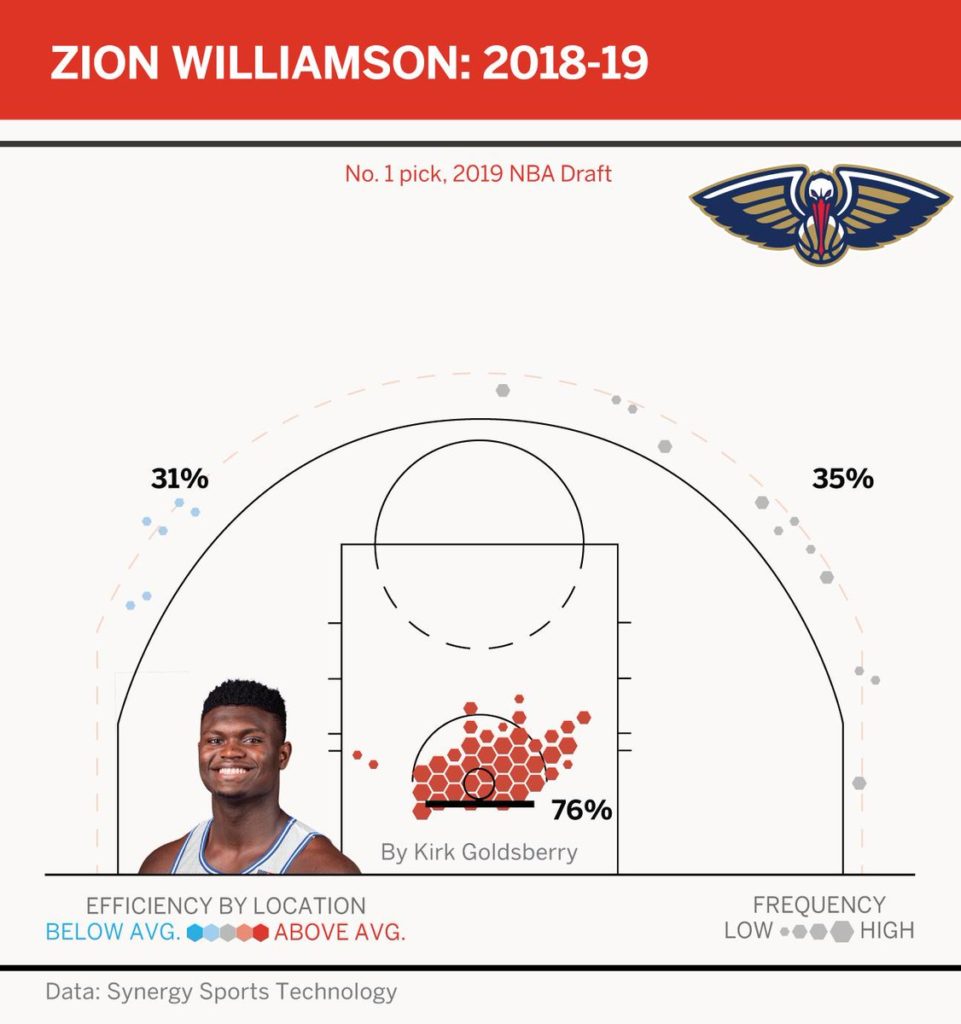 An absolute monster with eye popping interior scoring, Williamson was having a fairly seamless transition into the NBA. During preseason, he managed to shoot 71% from the floor in the four games he featured. Those were historic numbers for a rookie. His shot chart from preseason showed how much of his scoring output was within five feet of the basket. He rarely liked to take shots from outside, hitting just one three pointer.
When going up against the Spurs in his NBA debut, Williamson looked a bit jittery in the first half and went a timid 2-for-3 from the field. He fumbled a few passes, got stripped on his way to the rim and was rushing his decision-making instead of letting the game come to him.
Zion played a much smarter second half. The Spurs tried to body up on him to keep him from getting to his spots. In the clip, you can see that despite the Spurs best efforts, Williamson was able to spin away from DeMar DeRozan with ease for the nifty alley-oop.
The Spurs tried to throw the occasional double team to keep Zion away from the basket, but he was able to pass out of it and hit the cutting Brandon Ingram for the dunk. Williamson has the tools to be an elite playmaker for a big man.
The Spurs had led comfortably for most of this game. Zion was only playing in 3-4 minute bursts and the Spurs had done an admirable job on him for about three quarters. Heading into the fourth quarter however, the wheels began to fall off.
Zion hasn't been much of an outside shooting threat during his career. He has a very flat jumpshot that barely has any arc. The most amount of three-pointers he had hit in a game at Duke was three. Knowing this, the Spurs gave him all the time and space in the world on the perimeter, which led to several wide open threes. With each successive three-pointer, his confidence grew. The Spurs inexplicably failed to adjust and guard him from outside or force him to give up the ball.
The crowd was a bit muted for most of the night, but during Zion's one man 17-point run they were cheering like it was a playoff game. Chants of "MVP!" were echoing from throughout the arena. The Spurs were so concerned with his play at the rim that they were bamboozled when Williamson caught fire with four straight threes.
Zion Williamson's Elite Rebounding
One aspect of Zion's game that helps him stand out from the other big men in the league is his tenacity on the boards and his knack for loose balls. Williamson is extremely quick for someone his size. The Spurs aren't exactly the most athletic team in the league and Zion was bullying them in the paint using his physicality to cause all kinds of problems with his rebounding and second chance efforts. Even when surrounded by four Spurs, he still managed to finish under the rim.
It feels as though Zion is able to jump twice before other NBA players are still coming down from their first jump. His rebounding tenacity is somewhat reminiscent of Dennis Rodman at times. Both players seemed like they were on a pogo stick when crashing the boards. Zion's wide frame combined with his athleticism is a huge asset. In the next clip we see him sky over Jakob Poeltl for the rebound, and then run the floor to pass to a cutting E'Twaun Moore who lays it in despite the traffic.
Be Afraid…Very Afraid
For a player who was recovering from knee surgery and struggling a bit with his conditioning, Zion Williamson sure as hell put the league on notice with that fourth quarter explosion. When healthy, Zion should also be a strong defensive force as well. He has great lateral quickness and active hands. He averaged 2.8 steals and 2.4 blocks per 40 minutes at Duke. 
The Spurs were extremely fortunate that Zion isn't in game shape just yet. Had he been able to finish the fourth quarter, the Spurs most likely would be looking at a loss. Instead they barely hung on for a 121-117 victory. Maybe the Spurs should have seen this coming. You'd have to expect them to guard Zion much tighter in the next matchup and not disrespect him so much at the three-point line.
If the Spurs weren't paying attention before, they certainly are now.