Grades: San Antonio Spurs vs. Boston Celtics – Game #40
About 19 hours after beating the Detroit Pistons last night, the San Antonio Spurs were back on the court tonight taking on the Boston Celtics. Despite playing without Devin Vassell, Keldon Johnson and Jakob Poeltl, the Spurs almost completed an improbable comeback victory against the Celtics, who entered the game with the best record in the NBA.
Boston led the entire contest and held a 114-105 advantage with 3:49 remaining in the game. The Spurs rallied by scoring the game's next eight points and then Josh Richardson tied the game with a three-pointer with 37.1 seconds left in the fourth quarter. With the Spurs down two points and less than ten seconds remaining, Jeremy Sochan missed a three-pointer than would have given the Spurs the lead.
The Celtics (28-12) ended up beating the Spurs (13-27) by a final score of 121-116. Considering that the Spurs were without their three best players and also factoring in the quick turnaround, this has to go down as one of San Antonio's best performances of the season. They got fantastic performances from multiple players and their togetherness was a joy to witness.
Spurs vs. Celtics – Final Grades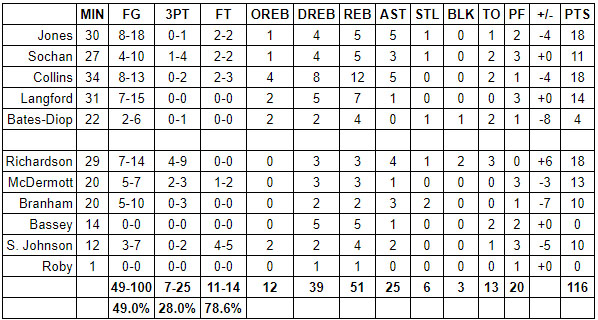 Tre Jones
Jones struggled coming out of the gates. In the first half, he was only 1-for-7 from the floor. Thankfully, Jones got better and better on both ends of the court as the game progressed. By the fourth quarter, he was an unshakable pest on defense and was getting everywhere he wanted on offense. Overall, it wasn't Jones' most efficient game but he played with an undying spirit that his teammates rallied around. He had to carry a heavy load and he didn't buckle when the going got tough.
Grade: A-
Jeremy Sochan
Sochan was thisclose to being a hero. He missed a potential game-winning three-pointer and then almost had a miraculous steal in the waning moments of the contest. Alas, the rookie wasn't quite able to write a storybook ending. That said, he did good things on the basketball court. His attentiveness on defense was a difference-making attribute. His opportune scoring and playmaking were valuable on the other end.
Grade: B
Zach Collins
Collins got a chance to start with Poeltl sidelined and he looked really, really good. He totaled 18 points, 12 rebounds, five assists and only one foul in 34 minutes. Defensively, Collins defended well on all three levels — and did so without fouling. Offensively, he was supremely active. He crashed the offensive glass, did work in the post against smaller and bigger opponents, and didn't hesitate to take jumpers. Collins also passed the ball extremely well. All in all, he looked like a starting quality center against the Celtics.
Grade: A
Romeo Langford
Going against the team that drafted him in the lottery, Langford was excellent. If a few of his shots didn't rim out, he could have had a legendary revenge game against his former squad. As it was, Langford was a killer. He attacked from the opening minute of the game and was San Antonio's lead playmaker down the stretch. Langford got to the basket with ease and his pull-up jumper with smooth. Defensively, he was equally as impressive. Langford plays D with a high basketball IQ and isn't afraid to get his hands dirty.
Grade: A
Keita Bates-Diop
As has been the case most of the season, the Spurs looked the worst this game when Bates-Diop was on the court. His movements on the offensive end were discombobulated and his passing was nonexistent. Defensively, the Celtics didn't play anyone who Bates-Diop looked comfortable guarding.
Grade: D+
Josh Richardson
Like Langford, Richardson was going against his former team. With clutch plays down the stretch, he damn near beat the Celtics. From drawing offensive fouls to knocking down momentous threes, Richardson's fingerprints were all over the comeback attempt. Overall, I love how he's playing right now. He's not forcing the issue at all and is instead taking the right shots at the right time. He's also handling secondary playmaking duties and has elevated his intensity on defense.
Grade: A
Doug McDermott
It was difficult for the coaching staff to hide McDermott on defense against Boston but he was deadly on the offensive end. He ended up scoring 13 points on 5-of-7 shooting from the floor and 2-of-3 shooting from three-point range. McDermott saved his best for last, as he led the team in scoring in the fourth quarter with eight points.
Grade: A-
Malaki Branham
Branham experienced a few rough possessions and a couple unsightly stretches — but I liked the way he battled through it and scored in double figures once again. He's playing point guard and his ball-handling and passing look legit. Branham is also moving better and better away from the ball. He's not quite at McDermott's level but he's really starting to turn heads for a rookie.
Grade: B+
Charles Bassey
Bassey was back in the rotation for the first time since Dec. 14. He … looked rusty. His timing on offense was off. His hands weren't as supple as usual. Bassey's rolls to the rim were too deliberate. Defensively, he rebounded okay but otherwise looked a step slow.
Grade: C-
Stanley Johnson
Johnson poured in ten points in 12 minutes, passed the ball well and played strong defense. I'm really intrigued by the maturity of his game. Earlier in his career, he had the reputation of being a player who tried to do too much on offense. Right now, he's sticking to his strengths of reading the defense to make the smart pass, shooting open threes and utilizing his strong body to score through contact.
Grade: B+
Pop
I mean, does this section even need an explanation? Pop somehow almost got a win against the Celtics even though the Spurs were without Vassell, Johnson and Poeltl. And he did so without overplaying his vets and while keeping his young players at the wheel. Amazing work.
Grade: A+