Grades: San Antonio Spurs vs. Utah Jazz – Grades #76
In a game that neither team was interested in winning, the San Antonio Spurs successfully lost to the Utah Jazz on Wednesday night. The Spurs sat Keldon Johnson (foot), Devin Vassell (knee), Jeremy Sochan (knee) and Doug McDermott (tank), while the Jazz sat Lauri Markkanen, Jordan Clarkson, Collin Sexton, Kelly Olynyk and Rudy Gay.
The contest was close throughout the first half. The Jazz led 64-62 at intermission but Utah was able to get some separation late in the third quarter. Two free throws by former Spurs first round draft pick Luka Samanic, who was playing his first NBA game since being released by San Antonio two years ago, put the Jazz up by nine points, 91-82. A 15-2 spurt by the Jazz to open the fourth quarter essentially ended the competitive segment of the game, as Utah went on to post a 128-117 victory.
There wasn't much to take from this game. Pop obviously was trying not to win and succeeded — mostly due to poor play off the bench. The starters played well so their minutes had to be limited for the greater good.
Spurs vs. Jazz – Final Grades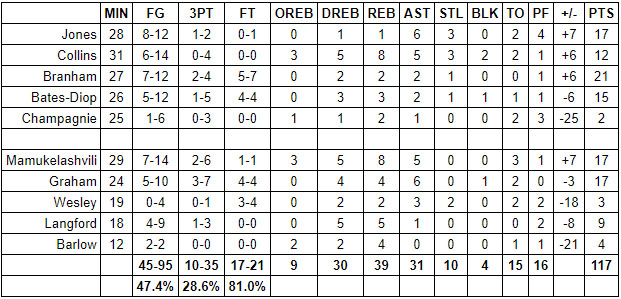 Tre Jones
It was good to see Jones show some liveliness on the offensive end of the court. He looked competent when calling his own number and looking to put the ball in the basket — especially in the first half. At halftime, Jones had 11 points on 5-for-6 shooting from the court. His scoring cooled after halftime but he picked up his defensive intensity and his playmaking improved. All in all, it wasn't a great game by Jones but he was playing a confident, winning brand of basketball.
Grade: A-
Zach Collins
The bad: Collins missed all four of his three-pointers. He also had a few issues finishing in the paint. The good: I really liked Collins' aggression on offense. He was looking to score whenever he saw the orange glow of the rim. His passing was slick and he rebounded with vigor on both ends. Defensively, he was as active as his three steals and two blocks suggest. He also limited his fouls (1) and turnovers (2).
Grade: A-
Malaki Branham
Branham pumped in a team-high 21 points in 27 minutes. He hit half of his four three-point attempts, worked his way to seven free throw attempts, and was crafty in the paint and in the midrange. Overall, the rookie was much more crisp on both sides of the court. Recently, he had been a step or two slow but Branham was energetic against Utah and moved with purpose.
Grade: A-
Keita Bates-Diop
Bates-Diop was trying to make things happen offensively. Unfortunately, he wasn't too efficient. He was also sub par on defense and on the boards. I liked how hard Bates-Diop was playing but he never found a rhythm on either end.
Grade: C
Julius Champagnie
Champagnie got the first start of his NBA career and, understandably, came out of the gates with a lot of nervous energy. His shots from the perimeter weren't particularly close and he was even having trouble catching passes. Eventually, Champagnie settled in and began playing better. He also flashed a level of athleticism that I didn't know he had in him. But, yeah, he's got to shoot it straight to make it and can't flub easy opportunities.
Grade: C-
Sandro Mamukelashvili
The ball of energy that goes by the name Mamukelashvili had another very productive outing. It's difficult not to root for this kid. He hustles all over the court and is more skilled than he appears at first blush. His passing and playmaking were actually the best thing San Antonio had going off their bench. Mamukelashvili also self-assuredly created his own shot on offense and looked really good in the process. Defensively, he's thinking less and reacting more — and that's improving his agility out on the perimeter. Good stuff.
Grade: A-
Devonte' Graham
Graham broke out of a mini slump by pouring in 17 points in 24 minutes. He shot it well from every spot on the court, handed out six assists and did well pushing the pace. Graham was also playing hard on defense. Sadly, he made a handful of poor decisions on both ends of the court that ultimately limited his impact.
Grade: B
Blake Wesley
Oof. Wesley went without a field goal in 19 minutes despite the Jazz mostly going through the motions on defense. He was also extremely sloppy with his passes and his overall decision-making. On the other end, the rookie was getting cooked. As it turned out, Wesley was a one-man tanking crew on this night. For his sake, let's hope he has a breakthrough performance or two before the end of his rookie campaign.
Grade: D-
Romeo Langford
Langford had his volume turned up a few notches higher than usual. That added vivacity served him well. Langford took the shots he needed to take on offense, rebounded better than normal and competed on the defensive end. After another injury-plagued season, he has to play this way in order to keep his NBA dreams alive.
Grade: B+
Dominick Barlow
Barlow was an active, buoyant body in the paint. He was impactful near the hoop by relentlessly going for rebounds and looking to use his athleticism to score. Outside of the paint, the picture wasn't nearly as pretty for Barlow. He looked uncomfortable and uncoordinated on the perimeter, which the Jazz took advantage of on a number of occasions.
Grade: C+
Pop
I don't know if I've ever seen Pop so blatantly try to lose a game. But … I love it. The more losses down the stretch, the better. The fastest way to get back to competing is to get lucky with the lottery balls. It's clearer than ever that Pop is fully buying into that philosophy.
Grade: A